Twenty years after her parents were killed in the Hyatt Regency skywalk calamity, Laurie McLane-Higginson still keeps a storage tub full of press clippings about the accident.
"That kind of stuff is important," she said. "You just kind of hang on to it and know that it's there."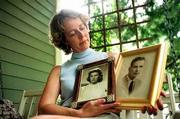 Along with photos and memories, McLane-Higginson uses the articles to connect her children with their grandparents, William and Betty Hall McLane of Prairie Village.
"That's the worst part about it," she said. "They didn't get to meet these wonderful kids, and these kids didn't get to meet these wonderful people."
McLane-Higginson, 49, an art teacher at Free State High School, sometimes uses her own life story when her students complain about their parents.
"I know it's kind of a cheap shot, but you need to think your parents won't be around forever," she said. "Enjoy your parents while you have them, because you just don't know. Enjoy everybody while you have them."
McLane-Higginson said she didn't mind the media bringing up the tragedy on anniversaries. She said it was a relief to know people haven't forgotten.
If anything, the tragedy brought her closer to her siblings. McLane-Higginson's youngest sister was 18 and had just graduated high school when it happened.
"It's the old wake-up call," she said. "Life is short; live it to its fullest."
.
Copyright 2018 The Lawrence Journal-World. All rights reserved. This material may not be published, broadcast, rewritten or redistributed. We strive to uphold our values for every story published.