A recent Supreme Court ruling keeping the doors of public school buildings open to religious groups caught the attention of church and education officials across the country.
In the Lawrence area, though, the ruling will have little effect because schools routinely allow outside groups including churches and prayer groups to use their facilities. Rather, the decision seems to confirm existing school policies that give equal access to public facilities for religious and secular activities.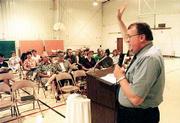 In their 6-3 decision last month, justices ruled that a Christian youth group must be permitted to have an after-school Bible study class in a Milford, N.Y., public elementary school.
Because school officials had allowed civic and social groups to use their buildings, the court ruled they also must open their doors to the Bible study group.
An open arrangement
The Supreme Court's ruling will not affect the position of Lawrence public schools on allowing faith groups to meet in its buildings.
"Our schools are public facilities and are open to any public use," said Julie Boyle, the district's communications director. Groups must complete a request form and, if necessary, pay a fee to cover custodial costs, she said.
Student-led prayer or faith groups are permitted to meet in Lawrence public schools, either before or after classes.
Morning Star Christian Church has met for Sunday worship services for more than three years at Sunset Hill School, 901 Schwarz Road.
"The past principal and the current principal have been very accommodating, and they are to a lot of other (community) groups too," said the Rev. John McDermott, the church's pastor.
Morning Star, which has about 150 adults and 35 children in its congregation, uses the school's gymnasium and library for worship. The church pays the district about $150 per week.
Morning Star has always meant for the arrangement to be temporary, while the congregation puts together enough money to build its own church. Members have no intention of creating a permanent place of worship in a public facility.
"Any church that would want to do that long term, you're going to limit yourself if you meet in a school," McDermott said. "It's really not the best situation."
He said he supported the Supreme Court ruling.
"I think it's great. That's as it should be, as long as (a religious group) doesn't interfere with the primary purpose of the school," McDermott said. "We all pay taxes, and schools are a public facility, so they should be open to the public within certain guidelines."
Planning to move
Lawrence public schools aren't the only ones in this area to allow congregations and student prayer groups to meet in their buildings.
In Oskaloosa, Living Water Evangelical Free Church has met for Sunday worship services in the town's public school for about two years.
Every six months, Living Water officials must go before the school board and resubmit a request to continue meeting in the school buildings.
The district does not charge a fee or rent for any community group to use the school facility, according to Oskaloosa Supt. Loren Lutes.
Two student-led faith groups with adult sponsors meet before classes in Oskaloosa's middle school and high school.
The Supreme Court decision will not affect the school district's policy toward religious groups.
"It's pretty much a reflection of what we've already known," Lutes said. "We can't treat them any differently than we would any other social group that would want to use our facility."
Breaking ground
But there are those in the community including two members of the board of education who are ready for Living Water to raise enough funds to move into its own building.
The church has been working toward that goal for two years and has broken ground for a new church about half a mile west of town, according to the Rev. Phil Green, Living Water's pastor.
School board member Kenny Metzger voted "no" the last time the church asked to use the school building for another six months.
He doesn't want to see a church meet for worship in Oskaloosa schools indefinitely.
"All I wanted to do was send them a message you need to get something started (on a new building)," Metzger said.
Copyright 2018 The Lawrence Journal-World. All rights reserved. This material may not be published, broadcast, rewritten or redistributed. We strive to uphold our values for every story published.