Jeff Weinberg walks along Jayhawk Boulevard pointing to buildings and telling a bit of their history early Jayhawk basketball games played at Hoch Auditorium, the discovery of helium at Bailey Hall. And the list goes on.
"You have building after building that has its own unique story," Weinberg, the assistant to Kansas University Chancellor Bob Hemenway, said Thursday.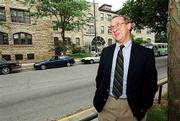 All that history has KU officials considering seeking a national historic district designation for the campus. A consultant has been hired to determine the pros and cons, with recommendations due in the fall.
There appears to be a growing enthusiasm for the idea now that concerns have been eased that such a designation would restrict the university's ability to renovate and build on campus.
"You don't do something like this lightly," Weinberg said. But, he added, "slowly but surely, the positive elements of creating a historic district are coming to the forefront."
That enthusiasm is shared by the consultant.
"Historically and architecturally, KU is as wonderful a campus as any in the country," said Elizabeth Rosin, a partner in Historic Preservation Services in Kansas City, Mo. "And I'm not even an alum."
Four already listed
Four buildings at KU are already on the National Register of Historic Places: Dyche Hall, the former Green Hall (now Lippincott Hall), Spooner Hall and Strong Hall. A fifth, Bailey Hall, is under consideration for the register.
Although the formal boundaries of the district haven't been outlined, officials say it would probably run along Jayhawk Boulevard, between the Chi Omega fountain and the Kansas Union.
The main benefit of a historic district would be a boost to the university's prestige, officials said, encouraging alumni loyalty and aiding new student recruitment. Rosin said other universities with historic district designations report good results.
"There's a bit of an n associated with having a historic district," she said.
It also raises the university's visibility.
"It would give the Mount Oread campus a national status," said Martha Hagdorn-Krass, an architectural historian with the Kansas State Historical Society. "Such a listing would reinforce the university's commitment to preserving the campus. That's never been in question; it's beautifully maintained."
KU's evolution
Rosin said some members of the Campus Historic Preservation Board were concerned a historic district designation would limit KU's ability to expand and adapt its buildings to meet future needs.
"It doesn't," she said.
Said Weinberg: "You still have the authority to do what needs to be done to keep the university functioning as a university."
Preserving and enhancing the campus is one of Hemenway's top priorities, he said, adding: "You can't do this kind of preservation without money."
The university is paying $27,000 for consulting services. Weinberg said, however, that a historic district designation should attract money to preservation efforts.
Rosin said the university doesn't have a uniform style of building unlike Harvard, for example. The halls at KU have been built in different styles, reflecting the era in which they were built. That's not a problem with seeking the national historic district designation, she said.
"They represent the evolution of the university over time," she said. "That's one of the nicest things about the campus it represents an evolution of ideas, like a university should."
Copyright 2018 The Lawrence Journal-World. All rights reserved. This material may not be published, broadcast, rewritten or redistributed. We strive to uphold our values for every story published.