A grocery store salad bar doesn't immediately strike you as the most inspirational spot ever. Personally, I don't think I've ever had any brilliant ideas while spooning up croutons or trying to dip dressing into one of those little plastic ramekins.
This just shows how uninventive I am, at least compared with Mohammad Al-Zaiti, owner of the Mediterranean Market & Cafe. While attending Kansas University, Al-Zaiti got tired of eating supermarket salads for lunch every day, and the idea for Mediterranean Market was born.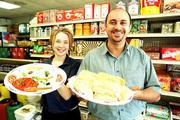 First located on Iowa Street, Al-Zaiti moved about a year ago to his current location in Orchards Corner, 3300 W. 15th St., to make more room for this cafe/market. Simultaneous shopping and eating is a fabulous concept what more could one want? and Mediterranean Market exploits it, albeit in a fairly spartan environment. Scattered tables complement a deli counter and several shelves of imported products. There are barrels of olives and huge hunks of cheese, dozens of relishes and a baffling array of canned goods. There's vanilla powder, unroasted coffee beans, sardines, individual zip-locked bags of various nuts and grains, jars of tahini and ajvar (roasted pepper paste).
If exploring this wondrous assortment of foodstuffs isn't enough to amuse, you can watch Arabic cartoons, listen to the Middle Eastern music or peruse the bulletin board, which is likely to bear such postings as advertisements for Muslim nannies.
Al-Zaiti, who lives in Kansas City, has a buoyant enthusiasm for his store. (His assistant manager describes him as a "mother hen" who pushes baklava like an Italian matriarch pushes lasagna.) He still makes the marinades for his food, but because of the commute, has delegated the bulk of the cooking to others.
"I still check all the orders," he tells me, overseeing everything to ensure the food quality doesn't deteriorate. Discovering it's my first visit, he assures me, "It's good. I'll make sure it's good."
Tour of the Mediterranean
For an appetizer we tried Zatter pie, baked bread marinated in olive oil and seasoned with thyme and sesame. This looked like a little pizza smeared with a dark brown paste; it's very salty and unusual to American tastes. Paired with salad it was excellent, much as it would be with fresh fruit or other sweet or watery foods.
More suited to the rest of our meal, though, was the spinach pie, a spinach filling layered between thin flakes of pastry, served with cucumber sauce. Having been made earlier, the pastry was slightly soggy from the moisture of the filling. But this condition is unavoidable when food is made in advance, and it didn't interfere with the good flavor. We ate it all and tussled over the last bite.
Going for the classics, I tried grape leaves, hummus, falafel and a fatoosh salad. Best was the fatoosh salad: fresh romaine lettuce was topped with cucumber, tomatoes, toasted bread and tart dressing and there was a lot of it. The grape leaves, however, lacked tanginess, and were slightly slimy with oil, and I also was somewhat disappointed in the falafel (fried ground chick peas): The shell was not the tender-crispy outer layer I had hoped for, but instead was slightly tough, and the seasoning was unmemorable.
The viscosity of hummus varies widely: Mediterranean Market's was very blended, so that its consistency was much like a creamy dip; its taste didn't match the full-bodied flavor that characterizes many commercial varieties, with eggplant or olives or garlic added, but it had a simplicity that was appealing on its own, and the warm, soft pita, cut into cute little triangles, was great.
The "Tour of the Mediterranean" veggie plate comes with hummus, baba ghannooj, ajvar, pickles and cucumber sauce, with pita, of course. I was unimpressed with the baba ghannooj, which I found to be an over-blended dip of roasted eggplant with only adequate flavor. The ajvar, though, a puree of roasted red peppers, was much better, full-bodied in both consistency and taste, and a welcome dash of color to go with the otherwise neutral palate.
Also tasty was the lamb shawarma plate, in which small pieces of marinated lamb sat on a bed of saffron rice, accompanied by a garlic yogurt sauce, pita and carrots. Entr came with a side salad that's much better than average. The lettuce was crisp and green and the tomato ripe, and a generous topping of goat cheese lent an exotic touch.
We finished, traditionally, with baklava. This, unfortunately, suffered from being in the refrigerator all day. It was so cold that it was difficult to cut, and the contrasting tastes and textures of flaky pastry and moist nutty filling had become indistinct.
It's true that the inconsistencies at Mediterranean Market can be somewhat disappointing. But when you enter, you are, on the one hand, stepping into a retail establishment, and on the other stepping into what amounts to a home kitchen a place that is imperfect but ultimately rewarding. Fortunately for diners looking for something slightly different, this home kitchen serves the public.
Copyright 2018 The Lawrence Journal-World. All rights reserved. This material may not be published, broadcast, rewritten or redistributed. We strive to uphold our values for every story published.