Winthrop, Wash. — A wall of flame crashed down on firefighters huddled in their silver emergency shelters in a narrow canyon in the north Cascade Mountains, killing four of them in the deadliest wildfire since 1994.
The fire, which apparently was sparked Tuesday by an unattended campfire, quickly spread through stands of 80- to 100-year-old trees in an area left vulnerable by months of drought and unusually high temperatures.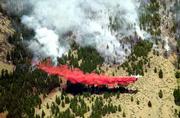 It happened suddenly. Firefighters were mopping up the small fire in the Chewuch River Valley when the flames exploded, quickly engulfing 2,500 acres of fir and pine and trapping 23 people behind the flames.
One five-person crew ran downhill toward the Chewuch River. They climbed into their tent-like emergency shelters that firefighters call "shake and bakes" just as the flames overran them.
Four of them two men and two women were killed, and their leader was hospitalized with burns that may cost him his hands. It was the worst loss of life since 14 firefighters were killed near Glenwood Springs, Colo., on July 6, 1994.
"This is a great tragedy and loss that is felt by all firefighters and agency employees everywhere," said Sonny J. O'Neal, supervisor of the Okanogan and Wenatchee national forests. "Firefighters are a family, and any time a firefighter is killed, grief is felt by all."
An elite team of U.S. Forest Service investigators arrived Wednesday to investigate.
Of the 21 firefighters and two civilians trapped by the fire, most were able to deploy emergency fire shelters or otherwise escape the flames.
The Forest Service identified the dead as Tom L. Craven, 30, of Ellensburg, Karen L. Fitzpatrick, 18, of Yakima, Devin A. Weaver, 21, of Yakima, and Jessica L. Johnson, 19, of Yakima.
Although the three younger firefighters were inexperienced, "they were with people who were fairly experienced," said Pete Soderquist, a Forest Service fire management officer.
The fire was one of at least three in central Washington that have burned more than 6,000 acres. For months, fire officials have worried that lack of rain this year could result in a severe fire season.
Copyright 2018 The Associated Press. All rights reserved. This material may not be published, broadcast, rewritten or redistributed. We strive to uphold our values for every story published.