Wednesday night an interesting pair of co-headliners shared the stage at Sandstone Amphitheatre. The pairing of Willie Nelson and Phil Lesh (ex-Grateful Dead) and Friends may seem, at first blush, rather unlikely. Certainly there are large portions of each artist's audience that don't overlap, and there is little similarity between Nelson's tightly crafted country and western songs and the loud, exploratory, psychedelic music Lesh delivers. But scratch the surface just slightly, and you'll find musical brethren.
Nelson, a founder of the outlaw country movement of the '70s has always been an iconoclast, confounding traditional country fans with his hippie sensibilities. Yes, the author of Patsy Cline's hit "Crazy" is the ragged old guy with the waist-length, braided pigtails. And the Grateful Dead spent years mining veins of Americana, playing both traditional songs and original compositions that trace back to the same roots from which Nelson's music has grown.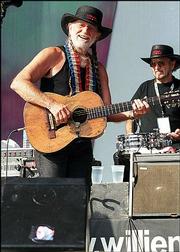 Before an eclectic mix of hippies and straight-looking country fans amassed under a blazing sun, and following an opening set by sotto-voiced country picker Junior Brown, Nelson and his band performed a full-length show, which drew mainly from his best-known material and hits.
Looking fit, singing as well, and playing better than ever, the 68 year-old icon made no apologies for, or concessions to age. From the opening song "Whiskey River," the good natured troubadour connected intimately with the audience, leading them through his pantheon of bluesy ballads, danceable honky tonk hits and sing-a-longs.
Whether singing his own classics like "Crazy," "Angel Flying To Close To The Ground," or "Seven Spanish Angels," or gems such as "Help Me Make It Through The Night," and "Me And Bobby McGee" by pal Kris Kristoferson or "Pancho and Lefty" by the late Townes Van Zandt, Nelson kept the crowd grinning with his infectious and obvious joy. As he sings in "On The Road Again," the life he loves is making music with his friends and Wednesday night he made music with several thousand of them.
Few other artists can assemble hippies, yuppies and farm-belt working folk in one place, let alone put over a string of old standards including "Blue Skies, "Georgia" and "All Of Me" to the delight of such a diverse audience.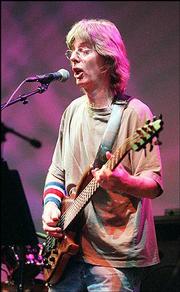 Following Nelson's set, some of his fans left but more, the curious, chose to stay for former Grateful Dead bassist Phil Lesh's set. Lesh, touring with an evolving ensemble of 'Friends,' brought his best lineup yet on the road this year. This tour's lineup includes former Bruce Hornsby drummer, John Molo, guitarist Jimmy Herring of Aquarium Rescue Unit, Jazz Is Dead and Allman Brothers fame, guitarist Warren Haynes from Gov't Mule and the Allman Brothers, and keyboard player Rob Barraca formerly of the Zen Tricksters.
While internecine business conflicts have driven a wedge between Lesh and other former members of the Dead during the six years since the band dissolved and only the corporation remained, the yearning among Deadheads to see the remaining members play together dies hard. And the portion of this tour that saw Lesh's band sharing a stage with Bob Weir's band Ratdog didn't include Sandstone, this was no second rate affair.
Lesh and his outstanding collaborators delivered a top-notch "Grateful Dead" experience, indicating that there may be something said for he and his former partners fanning out to spread their musical gospel further and wider. In the hands of the capable improvisers he's chosen, Lesh's band is more than capable of scaling the peaks that were once the purview of the Dead.
Save for one Warren Haynes offering, the entire set list was drawn from the Grateful Dead liturgy, and remarkably the song selection didn't include a single song originally sung by Lesh himself. An opening improvisatory jam led into and back out of "Friend of the Devil," followed by 24 minute, unbroken passage of psychedelic flair that included "China Cat Sunflower" and "I Know You Rider."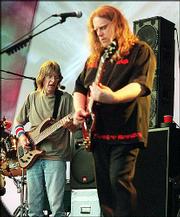 A very spacy jam led into the signature "Dark Star," followed by further improvisation leading into the complex "The Eleven," with it's tricky 11/8 time signature. Yet more exploration brought the music back around for the concluding portion of "Dark Star" and toward the set concluding "The Wheel," a celebration of the inevitability of perseverance.
After an expression of gratitude and a brief plea by Lesh in support of organ and blood donation (Lesh himself is the recipient of a liver transplant) the band encored with familiar pairing of "Scarlet Begonias" and "Fire On The Mountain."
Copyright 2018 The Lawrence Journal-World. All rights reserved. This material may not be published, broadcast, rewritten or redistributed. We strive to uphold our values for every story published.