Baldwin — Clarence Rusk comes from an era when 8-year-old boys carried pistols and young men enlisted readily for war.
But a rough-and-tumble life hasn't cut his time short. Rusk, the oldest known World War I veteran in Kansas, celebrated his 104th birthday Wednesday at the Baldwin Care Center.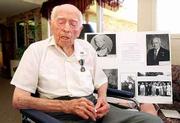 Having witnessed three centuries, Rusk recounted the stories of a changing Midwest and secrets of longevity to captivated community members.
"I believe the secret to a long life is being satisfied with whatever you are doing," he said.
Rusk said he's carried that philosophy through bad times as well as good. He maintained a farm during the Depression, was twice struck by lightning and has overcome several types of cancer.
After living in the Lawrence area for much of his life, Rusk moved in 2000 to a Baldwin retirement home. He has difficulty hearing and seeing, but no trouble remembering.
Rusk's catalogue of memories begins with a farm in Talala, Okla., where he was born in 1897 and raised along with nine siblings. At 21, he left the ranch to enlist in the U.S. Army.
"I went with a buddy of mine; we had a couple of drinks apiece and signed up," Rusk said. "I got home and told my mother what I'd done and she jumped 2 feet."
Rusk trained for World War I for 60 days in New Mexico. The Armistice was signed while he was on a train headed for the East Coast, where a Europe-bound ship awaited. The train stopped and troops were sent home.
"I got my discharge in El Paso, came home to Oklahoma and thought, 'I'm gonna look at this discharge and see what it says,'" he said, an amused grin spreading across his face. "It said that I had been appointed a commanding officer. How about that?"
After the war, with only a fourth-grade education, Rusk went to Beaumont, Tex., to learn how to weld pipes. He helped lay the first natural gas pipelines in the Missouri cities of St. Joseph, Grandview and Belton.
While living and working in Kansas, he met his future wife Anna and married her at the age of 35. Until then, Rusk was a confirmed bachelor.
"I whistled at her and she gave me that little old wave, and that went on for a while," Rusk said. "Then one day we were out driving, got a Coke, came to the house, and I could tell Anna was nervous about something but I didn't know what.
"She turned to her mother and said, 'We're getting married Christmas Eve.' It was a leap year, so I guess she had the right to propose."
Rusk has out-lived his wife and immediate family members with the exception of his only child, Nancyelaine Anderson.
"I was the only kid in the (Rusk) family that knew all of Dad's brothers and sisters because Dad was a social butterfly," said Anderson, who drives frequently from Minnesota to visit her father. "He just hopped in his Ford and visited everybody."
She added that her dad's longevity and quick wit astound even relatives.
"We're talking about getting water bottles from Talala," she said. "There are about three women in his (home) town right now that are over 100 years old."
Officials from Rusk's Masonic lodge and Kansas University's School of Education which awards a scholarship in the name of Rusk's sister, Clara would likely chip in for a bottle. They were among a stream of people who wished Rusk a happy birthday and listened in awe to his stories.
Their cards will probably be tacked to his bedroom walls, alongside newspaper clippings, mementos and awards. His most prized possession is a certificate from Kansas Gov. Bill Graves.
"Out of the blue sky, I got a letter from the governor of Kansas," Rusk said. "He happened to find out that I was the oldest taxpayer in the state."
Rusk added that Wednesday's well-wishers were a pleasant surprise, too.
"This has been kind of an erratic day," he said. "I thought it was just wonderful."
Copyright 2018 The Lawrence Journal-World. All rights reserved. This material may not be published, broadcast, rewritten or redistributed. We strive to uphold our values for every story published.