Washington — In the bottom-heavy Eastern Conference of the WNBA, a team can move out of last place one day and start calculating playoff chances the next.
The Detroit Shock can start conjuring up such notions after Wednesday's 64-52 battle-of-the-cellar victory over the Washington Mystics. The win broke a three-game losing streak for Detroit (5-11) and left the Mystics (5-12) with the league's worst record.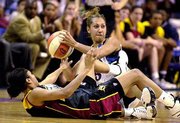 Despite their record, the Shock are one game in the loss column behind the fourth-place Charlotte Sting (7-10), who currently hold the final playoff spot.
"That is wild," coach Greg Williams said. "At least the East is balanced. If you can rattle two or three or four wins in a row, you can jump over some people."
The Shock are 2-8 since losing 2000 All-Star Wendy Palmer to a hamstring injury, but Williams said he expects her to return this weekend against Miami.
By contrast, Washington is just starting a long stretch without All-Star Chamique Holdsclaw, who will miss at least two weeks with a foot injury.
Holdsclaw said she had a stress fracture, but general manager Melissa McFerrin said late Wednesday that new tests confirmed a "stress-related reaction," but no fracture.
In their first game without her, the Mystics scored just 52 points against the worst defensive team in the NBA.
"I thought we would be able to step up a little better without Chamique there," coach Tom Maher said. "When you're losing, you feel a degree of a lack of self-esteem, and you're anxious about turning it around. That can be a huge distraction. The fact of the matter is, you've got to go get a rebound. That's what we need to focus on right now."
Sparks 75, Mercury 61
Phoenix Lisa Leslie had 15 points, eight rebounds and five of Los Angeles' WNBA-record 13 blocked shots as the Sparks beat Phoenix for its seventh straight victory. Ukari Figgs scored 13 of her 16 points in the second half, Tamecka Dixon added 14 and DeLisha Milton had 10 points and 11 rebounds for the Sparks.
Rockers 76, Fever 58
Indianapolis Cleveland, playing without its top two scorers, made a team-record 10 three-pointers and beat Indiana. The Rockers won their third straight despite missing All-Stars Merlakia Jones, who was tending to family matters, and Chasity Melvin, out with a fracture near her right eye.
Liberty 67, Storm 53
New York Becky Hammon scored 16 points, and Tari Phillips had 13 points and six rebounds to lead New York over Seattle. Tamika Whitmore added 10 points, and Teresa Weatherspoon 10 rebounds for the Liberty (14-5).
Copyright 2018 The Associated Press. All rights reserved. This material may not be published, broadcast, rewritten or redistributed. We strive to uphold our values for every story published.