Washington — Police are analyzing items they removed from Rep. Gary Condit's apartment for possible clues about the disappearance of former federal intern Chandra Levy.
The search, done with the congressman's consent and in his presence, began at 11 p.m. CDT Tuesday and ended at 2 a.m. Wednesday.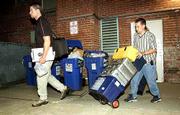 Several items, which police would not describe, were to be sent to the FBI crime lab in Quantico, Va., said Sgt. Joe Gentile, a Washington police spokesman.
Police Chief Charles Ramsey said he did not know whether the evidence police took from Condit's apartment contained anything that might help them figure out what happened to Levy, who has not been seen since April 30.
While police looked for new information, the FBI and the U.S. attorney's office again questioned flight attendant Anne Marie Smith. She has contended Condit asked her to sign a statement denying a 10-month affair she says they had.
Authorities declined comment on the questioning.
Smith said on Fox News Channel that investigators indicated she had provided them with new information during the six hours that she met with them. She would not disclose what she told them, but said she would meet with them again today.
Smith said she and Condit never talked about Levy. She said she last spoke to Condit 2 1/2 weeks ago and that he again urged her to sign the statement.
Condit has not commented on any relationship with Smith, but in a statement last week said he never asked anyone to lie.
Meantime, Washington police continued talking to Abbe Lowell, Condit's attorney, about whether and under what conditions the California Democrat would take a lie-detector test, a suggestion first made by Levy's mother on Monday.
Ramsey said police want a wide-ranging test, while Lowell has indicated he might insist on a far more limited test.
The Washington Post and CNN, citing police sources, reported police have asked three other men to take polygraph tests. One said he occasionally socialized with Levy, but the connection of the other two to Levy was not immediately clear.
Copyright 2018 The Associated Press. All rights reserved. This material may not be published, broadcast, rewritten or redistributed. We strive to uphold our values for every story published.