Oskaloosa residents are preparing to celebrate 100 years of old-fashioned, small town fun.
Tonight kicks off a flurry of activities marking the 100th anniversary of the annual Old Settler's Reunion. The three-day event will take place around the town square.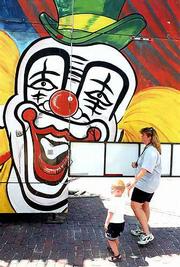 Cathy Dailey, co-chair of the organizing committee, said the history behind the event started in 1899 with a community festival, but the first reunion wasn't until 1901.
"They invited the old settlers who had settled the county, and they talked about what it took to settle the county and how they survived," she said. "It was kind of like an oral history thing, and people showed up with picnic baskets and stayed to listen."
Dailey said history will repeat itself at 6:30 tonight when long-time area residents give oral history presentations.
"People can come and sit under the shade of the tent and listen to the memories," she said.
The night also will feature discounted carnival rides, art and craft booths and live ragtime music by the TurpinTyme Ragsters of Kansas City and old-time fiddle songs by an area duo, Kelly and Diana Wertz.
Dailey said the activities continue at 6:30 p.m. Friday and include a hay bale toss, cow chip throw and a tractor pull. From 9 a.m. to midnight, there will be a free street dance with music by Oskaloosa resident Arnie Johnson and his old-time country band.
Dailey said there are events all day long Saturday, starting with a pancake feed from 8 to 11 a.m. and ending with a skit of "Wild Women of the Frontier" from 7:30 to 9 p.m., followed by a street dance that lasts until 1 a.m.
At 6:30 p.m., the parade, considered one of the reunion's highlights, will feature several kinds of entries including horse carriages, community floats and local groups.
Copyright 2018 The Lawrence Journal-World. All rights reserved. This material may not be published, broadcast, rewritten or redistributed. We strive to uphold our values for every story published.