Ronald Decker shot Lloyd Green three times with a .22 pistol, forced his wife to help him drag Green's body to the back porch and then scraped it into a shallow grave dug with a backhoe.
That's how Jefferson County Assistant Dist. Atty. Vic Braden summed up the prosecution's case against Decker during a court hearing Wednesday.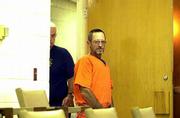 Decker, 52, rural McLouth, is charged with first-degree murder in Green's Oct. 4, 1999, death. A body believed to be that of Green, 45, was unearthed Monday by Jefferson County Sheriff's officers and the Kansas Bureau of Investigation.
Positive identification of the body is pending, Sheriff Roy Dunnaway said Wednesday. Results of an autopsy also are pending.
Decker, shackled and wearing a bulletproof vest beneath his orange jail jumpsuit, appeared before Jefferson County Magistrate Judge Dennis Reiling to have the charges read to him.
Decker also is charged with aggravated robbery. He allegedly stole a wallet containing $400 from Green's body before burying it, Braden said.
During the hearing, Decker asked Reiling to appoint an attorney to represent him. Reiling appointed Holton attorney Michael Ireland and set a preliminary hearing for 1 p.m. Wednesday.
Decker remains in the Jefferson County Jail on $500,000 bond. Braden said he would oppose any requests for reduction of bond because of Decker's "continued aggression toward his wife."
Braden said Decker allegedly threatened his wife, Sue Decker, and forced her to help him dispose of Green's body.
Braden noted that Decker was initially arrested Saturday night for alleged domestic battery against his wife. Decker also is charged with aggravated battery for a Feb. 13 incident in which he shot a finger off of his wife's hand, Braden said.
Sheriff's officers went Sunday night to Decker's residence in the 1100 section of Washington Road north of McLouth with a search warrant. They had received information that made them believe a body might be on the property, Dunnaway said.
An officer remained overnight, and digging began near the house the following morning.
Green, also a rural McLouth resident, was never reported missing by relatives, Dunnaway said.
"They said it wasn't unusual for him to disappear for months at a time," Dunnaway said.
Decker wore the bulletproof vest for the court appearance because that is routine for suspects in major cases, said Capt. Mark Roberts, jail administrator.
"We do it as a precaution until we can determine whether there is a threat to his safety," Roberts said.
There have been no threats against Decker, Roberts said.
Copyright 2018 The Lawrence Journal-World. All rights reserved. This material may not be published, broadcast, rewritten or redistributed. We strive to uphold our values for every story published.