A Lawrence-based manufacturer is pulling into the fast lane of the high-performance computer market, fueled by its recent delivery of a $1 million supercomputer to Clemson University.
The "Daytona" series supercomputer an 11-ton collection of 528 processors connected by three miles of fiber-optic lines and network cables is the largest single product order ever filled by Microtech Computers Inc., 4921 Legends Drive in the Oread West Research Park.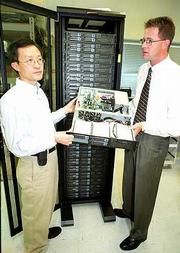 The reasoning behind the "Daytona" name was simple.
"Speed," said Bret Stouder, director for Atipa Technologies, Microtech's high-performance computer division.
The equipment, powered by a Linux operating system, gives researchers the ability to run 528 billion operations per second, or about 620 times faster than a high-speed desktop computer powered by a Pentium III processor. Its new owners expect the system to rank among the 25 fastest computers in the world.
"We've now upped the stakes," Stouder said. "It's probably the difference between a Volkswagen and an Indy car."
Microtech's Atipa division beat out several larger companies IBM, Compaq and Dell among them for the Clemson project, which will be used by researchers for a variety of complex tasks. Among them is mapping of the genome for rice, part of an effort to create a rice that improves nutrition through the inclusion of beta carotene, which is converted into vitamin A.
The sale was just the kind of financial nutrient that Microtech President Mike Zheng was counting on when he bought Atipa two months ago. Since then, the division already has sold 500 high-performance processors with sales expected to hit $5 million by the end of the first year.
As PC makers struggle during an ongoing economic slowdown, Zheng said, Microtech is concentrating on landing big-time orders for researchers, scientists and other high-demand users.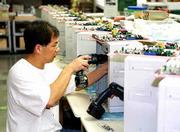 "We're focusing on high-tech computing," Zheng said. "We don't want to compete with mail-order and super stores, the Best Buys and others. Computers are becoming more and more of a commodity. We're trying to focus on the high-performance market, and not many of our competitors are there yet."
The Atipa division is poised to thrive in the market, as demand rises for so-called "Beowulf" systems that combine a series of processors into a coherent network, said Dan Stanzione Jr., an assistant professor and research scientist of electrical and computer engineering at Clemson in South Carolina.
No longer must a company, lab or university rely on expensive, proprietary operating systems for running a mainframe, he said. Hooking up a collection of processors under the shared Linux system saves money, adds flexibility and broadens expansion options.
"This is the next generation of supercomputer," Stanzione said. "It's gone away from big-iron, custom design (mainframes) and moved into these distributed supercomputers."
Powering the Daytona system costs about $70 a day for electricity, Stanzione said. It also requires enough air conditioning to cool about 10 homes.
Getting the equipment from Lawrence to Clemson meant using three 18-wheel tractor trailers. Stanzione, Zheng and Stouder all agree that the effort was worth it.
"I think it really makes a strong statement to our industry," said Stouder, who leads Atipa. "For that particular bid we ran into the likes of Dell, IBM and Compaq, and we were able to prevail. As that (news) travels, certainly we think that will be very beneficial to the business in the market that we're attacking."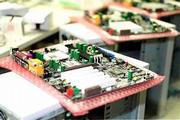 Copyright 2018 The Lawrence Journal-World. All rights reserved. This material may not be published, broadcast, rewritten or redistributed. We strive to uphold our values for every story published.