Belfast, Northern Ireland — In a conflict whose weapons of choice have traditionally been guns, bombs and mortars, the Orange Order is once again rolling out its peculiar arsenal: bowler hats, white gloves and insignia-encrusted orange collars.
Today marks the biggest day of Northern Ireland's "marching season," for decades a flashpoint for violence between Protestants and Roman Catholics, coinciding this year with a political showdown that poses the most serious threat yet to the province's 1998 peace accord.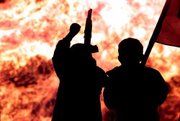 On this day a holiday known simply as "The Twelfth," commemorating a 1690 military victory by Protestant William of Orange over King James II's Catholic forces members of Northern Ireland's biggest fraternal Protestant organization stage hundreds of fife-and-drum parades in the province, some going right to the edge of Catholic enclaves.
Thousands of police and soldiers were being deployed to enforce restrictions on parade routes, angrily contested by the Orange Order. Disputed venues resemble armed camps, with rolls of razor wire unfurled and towering metal barriers erected by army engineers to prevent entry into forbidden zones.
Leaders on both sides have publicly appealed for calm. A key pre-Twelfth parade in the town of Portadown an event that has sparked riots and bloodshed in recent years passed more or less peacefully on Sunday.
Whatever the degree of tension associated with the marches, some see a decline in their importance, linked to a drop-off in the power and influence of the Orange Order, a lodge-based Masonic-type organization founded in 1795. It claims about 60,000 members in Northern Ireland, but independent estimates put membership around two-thirds that.
The Order played a central role in Northern Ireland's founding as a Protestant-majority state, and crusades for a continued union with Britain.
"The strategic position of the Orange Order in Unionist politics is greatly reduced, and the marches are of fading significance," said Paul Bew, professor of politics at Queen's University in Belfast. "It's an antiquated thing, really it's moth-eaten, it's crumbling."
Copyright 2018 The Associated Press. All rights reserved. This material may not be published, broadcast, rewritten or redistributed. We strive to uphold our values for every story published.