Kevin Harvick is flying all over the place, spending as much time in airplanes as in race cars.
Thrust unexpectedly into Dale Earnhardt's Winston Cup ride, Harvick might be the busiest driver in more than a half-century of NASCAR. But that's what happens when you're on the verge of making history.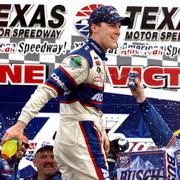 Harvick is leading in points to become the first driver to win the Busch series title and be Winston Cup's Rookie of the Year in the same season.
To pull it off, he must complete a grueling schedule of 70 races in nine months. It requires him to travel between two tracks on the same weekend seven times, logging an additional 13,525 miles of travel.
But the 25-year-old driver is showing no fatigue.
"I'm not tired, there is nothing out of the ordinary so far," he said. "We're racing 70 races this year, I've raced 60 before. This is just on a bigger scale. As long as we get through July, I think everything will be fine."
July has always been the main worry for Harvick and his Richard Childress Racing team.
Childress didn't want to disappoint the Busch sponsor or the team when the driver from California took over the Cup car after Earnhardt was killed in the season-opening Daytona 500 on Feb. 18. So he decided to try double duty for Harvick.
It requires considerable travel, especially in July when the two series' run in separate states three times.
When the Winston Cup cars raced at Daytona International Speedway last weekend, Harvick spent most of his time shuttling back and forth to Watkins Glen, N.Y., where the Busch series competed.
He'll do it again next week, when he travels between Loudon, N.H., and Madison, Ill. Even more difficult will be the commute the following week between Long Pond, Pa., and Fountain, Colo.
"It was really important for all of us to continue to run the Busch car," Childress said. "So when this whole thing happened, before I could even ask Kevin what he thought, he said, 'I'll do whatever you need me to.' He's handled the travel, he's handled the demands. He's been great."
It's all happened so fast, Harvick has had virtually no time to relax.
He was at home in North Carolina when Earnhardt, who would have been his Cup teammate next season, was killed at Daytona. Two days later, The Intimidator's black No. 3 became Harvick's white No. 29.
It was a daunting task for anyone, especially a young driver. Compounding the problem was his wedding, scheduled three days after his first race in Earnhardt's car.
"It was a whirlwind, like nothing I ever experienced before," Harvick said. "The hardest thing was the attention."
Copyright 2017 The Associated Press. All rights reserved. This material may not be published, broadcast, rewritten or redistributed. We strive to uphold our values for every story published.