Twenty-three year-old Jeremy Tawney has been at home in restaurant kitchens since he was eight years old. Now the head chef at Tellers in downtown Lawrence, he began his cooking career as a child in Manhattan, Kansas under the tutelage of what he describes as his surrogate family, the owners of Panda Paradise, a Chinese restaurant.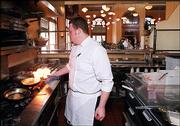 At the age of eighteen, Tawney came to Lawrence to study graphic arts and design at Kansas University. To pay the bills he did the work he knew and worked at Chili's, The Brown Bear and Jester's where the staff of Tellers was among it's late-night habitu Impressed with his skills, they persuaded him to join them on the staff of the upscale eatery.
Beginning as a prep cook, Tawney worked his way through the pizza and pasta stations before becoming the sous chef. After working under three different head chefs at Tellers, Tawney ascended to that post a year ago.
Tellers, now nearly nine years in business, began life as a high-end pizza parlor, and morphed briefly into a vegetarian restaurant before settling in as one of the first of Lawrence's contemporary, fine dining establishments.
With an established clientele, Tawney understands the risks in transforming his menu too dramatically, too quickly. Certain dishes that were retired have been brought back by request Dishes such as his delicious peppercorn-encrusted Kansas City strip, with its charred, aromatic mixed peppercorns, developed a following after patrons learned that it's not a burnt steak.
On the whole, Tawney's menu is his own, and the recipes very individual creations. "I try not to read the magazines or watch the cooking shows, I want my recipes to be all my own," remarks Tawney.
While Tellers has positioned itself as a traditional Italian restaurant in the past, Tawney thinks of its fare more as bistro food. This point of view is demonstrated by the presence of dishes such as the rustic Chicken Marsala stuffed with feta and pepronata, and served with new potatoes and fresh green beans.
Tawney likens his staff to a family and spends most of his social hours in their company. He's helped send several of his staff to CHIC, the Cooking and Hospitality Institute of Chicago. Though a self-proclaimed graduate of the school of hard knocks, Tawney may one day attend CHIC himself, and would like to own his own establishment in the future.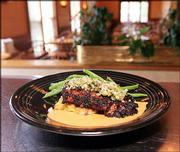 His family would like the future to be now. They have plans underway to open the first fine dining establishment in Ottawa, in anticipation of Kansas City's growth in that direction. And while Tawney has no immediate plans to accept a parental job offer, he's looking forward to consulting on the design of the kitchen and training his younger sister to run the operation.
Copyright 2018 The Lawrence Journal-World. All rights reserved. This material may not be published, broadcast, rewritten or redistributed. We strive to uphold our values for every story published.