Company: Yellow House and Professional Delivery Inc., 1904 Mass.
Owners: Guy and Carrie Neighbors.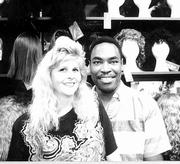 Number of employees: Six.
Years in business: 17.
Years in business in Lawrence: 17.
Main products and services: The company sells preowned major appliances including washers, dryers, refrigerators and stoves plus televisions, electronics, clothes, wigs and hair products. It also handles residential delivery and repair of major appliances.
Why is the Lawrence area a good place for the business? "Lawrence has been good to us," Carrie Neighbors said. "Almost every major appliance dealer uses our delivery service, including stores downtown and the general public. The students love our selection of household goods. Our wigs and hair products are a big hit among many who would otherwise have to go out of town to buy the product."
What are the company's growth plans? "Actually, we enjoy the freedom of being a small business," Carrie Neighbors said. "We would like to expand our repair service."
Where do you see the businesses in five years? Expand the delivery service "possibly" into the Kansas City area, and add another full-time repair person, Carrie Neighbors said.
Something you may be surprised to learn about the business: "All our repair work is done by women," Carrie Neighbors said. That's right: only Carrie Neighbors, Wynona Evans and Nancy Winchester fix the dishwashers, stoves and other appliances at the store and in their clients' homes. "It really is a male-dominated business, especially in this town. It's fun for us. Women especially from other countries are really surprised when we show up. It's hilarious."
Do you have an area business or employee with a story to tell? For more information, contact Mark Fagan, business editor, at (785) 832-7188 or mfagan@ljworld.com.
Copyright 2018 The Lawrence Journal-World. All rights reserved. This material may not be published, broadcast, rewritten or redistributed. We strive to uphold our values for every story published.