Cleveland — Even what some parents may consider noise has roots.
A new MTV series called "Live at the Rock and Roll Hall of Fame" aims to show that today's music is rooted generations earlier.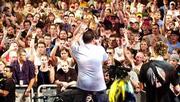 The 10 half-hour programs are slices of a summer concert series the Rock and Roll Hall of Fame and Museum is staging in its dramatic glass atrium. Each show includes concert footage plus a "backstage" tour with band members visiting the shrines of their heroes.
The show premieres at 7 p.m. CDT today with Sum 41, a teen-age punk band, and Saliva, which has the No. 4 song on Billboard's mainstream rock charts, "Your Disease."
Despite the show's title, concert footage is taped in architect I.M. Pei's angular atrium, which has been reconfigured as a TV soundstage. About 1,500 people fill the hall, some hanging from the balconies and waving tiny flashlights handed out at the door.
Organizers appear before the music begins to remind the crowd to go wild for the cameras and to do it politely. No body surfing or obscenities, please.
The series is a mix of new and old: new artists talking about their links to rock 'n' roll history.
"It's kind of interesting in this day and age how music sometimes recycles," said Mitchell Goldstein, an MTV vice president. "There are musical roots, and I think people are interested in that. How did they get from here to there?"
David Spero, vice president of the rock hall's education and public programs, said today's artists have been influenced by music that was popular decades ago.
"Rock 'n' roll just keeps evolving, and in order to tell that story ... we have no option but to include current music," Spero said.
The young rockers are not shy about paying homage to their roots. Saliva, a heavy metal hip-hop band from Memphis, made a beeline for the hall's Elvis exhibit.
"We love Big E," said lead singer Josey Scott. "You can't get no bigger than Big E."
Scott mugged for the camera in his white Nike running suit and sunglasses next to photos of the King in a white jumpsuit and similar shades.
From the stage, Scott shouted out a song in tribute to Elvis.
Sum 41 spent much of the hall of fame tour in the John Lennon exhibit, poring over Lennon's handwritten lyric sheets.
Goldstein said the series is an opportunity for MTV to present live bands that some day may be inducted into the rock hall.
"At one point when we were booking this, we thought we probably have the future of rock 'n' roll. But right now, if you look at the charts, we have the present," Spero said.
Indeed, Billboard magazine's list of the top 100 albums for June 30 included nine albums by acts scheduled for this concert series. The featured hitmakers include Staind, Linkin Park, Uncle Kracker, R. Kelly, Fuel, Train and Tantric. MTV will also air concerts by Poe, Good Charlotte and 3 Doors Down.
Rock hall officials say the MTV series provides a chance to explain to young rock fans that the hall is not just about music their parents listened to.
The series is the brainchild of Maryland-based Hartner Entertainment Productions' George Hartner, who said having MTV follow the bands through the rock hall will "be a way for the fans to interpret the museum in their own language, through the artists that speak their language."
Copyright 2018 The Associated Press. All rights reserved. This material may not be published, broadcast, rewritten or redistributed. We strive to uphold our values for every story published.