SANTA ANA, CALIF. — Blue Cross of California's new plan to reward doctors for satisfying patients rather than saving money aims at a problem plaguing health plans statewide the perception that quality of care takes a back seat to cost.
But many observers worry the plan does little to alleviate the underlying financial strain that sent many medical practices into bankruptcy and continues to force insurers to raise premiums, even as they search for new ways to keep a lid on spiraling health-care costs.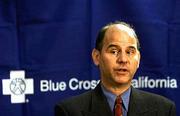 On Tuesday, Blue Cross, a unit of WellPoint Health Networks, unveiled its new bonus system for doctors serving its 2 million HMO customers in California. The program scraps the old system that paid doctors extra for saving money and replaces it with one that rewards them for meeting various quality measurements.
Dr. Jeff Kamil, Blue Cross vice president and director of medical policy and quality, said the new policy was a response to requests from medical groups, members and employers.
Effects of the plan are unlikely to be dramatic or immediately noticed by patients, observers say. In fact, doctors and health-care experts say that while they applaud any system that emphasizes quality of care, they are concerned the Blue Cross scheme is more about marketing than medicine. "Physician groups have gone bankrupt providing quality care," said Ron Vangasser, a physician and top official at the California Medical Association, who was in Orange County Tuesday conducting a peer review. "Quality isn't the problem. The problem is underfunding."
Blue Cross said it will have several ways of ranking medical groups to determine if they will get quality-of-care bonuses and how large the bonuses will be. One method will be to survey patients. Medical groups will also be asked to measure the care provided by individual doctors.
The general outlines of the plan sounded like good medicine to Jose Salcedo, a 38-year-old Blue Cross HMO patient in Santa Ana. "The good thing about this is that the doctors are going to find out if they made a mistake," he said, "and that way maybe they'll treat patients better."
Kamil of Blue Cross said the bonuses would come out of existing funds and amount to about 10 percent of the total annual payout.
The new policy has been in the works for a year, Kamil said, and was not a response to litigation or the Patients Bill of Rights pending before Congress. "It's a reaction to the marketplace and the demands of employers, members and health plans."
(EDITORS: BEGIN OPTIONAL TRIM)
Dr. J. Thomas Rosenthal, chief medical officer, UCLA Medical Center and director of the UCLA Medical Group, said patients would not see any immediate change.
"The focus of change is significant, but it won't be one like turning a switch," Rosenthal said. "It will be a subtle change."
(END OPTIONAL TRIM)
Nancy Rimsha, directing attorney of Legal Aid's Health Consumer Action Center in Santa Ana, said the reform isn't a major change. "The problem in managed care overall is that the economic incentive is to provide less care. It's a little reform that doesn't change the economic incentive," she said.
In many ways, Blue Cross, the state's fourth-largest HMO, is playing catch up. Other insurers doing business in the state, including Santa Ana-based PacifiCare Health Systems, say they already use quality surveys and some, like Cigna and Aetna, say they already reward physicians who score well on them.
What's more, Blue Cross isn't putting any new money into the system with the new bonus plan. It's merely changing the criteria it uses to allocate a small portion of its payments to doctors. And since the majority of the medical groups in the Blue Cross HMO receive a flat, per-patient fee each month that Blue Cross negotiates with each one, it's ultimately the physician groups themselves that will have to foot the bill for any extra costs associated with the new system.
As a result, many local observers categorized the initiative as more PR than ER.
"It's about competing with other health plans," said Paul Feldstein, a professor of health management at University of California Irvine. "But they're still going to be tough on the doctors."
Copyright 2018 The Lawrence Journal-World. All rights reserved. This material may not be published, broadcast, rewritten or redistributed. We strive to uphold our values for every story published.