Two fires that occurred within about 30 minutes of each other early Tuesday morning in downtown Lawrence are under investigation as possible arsons.
At 2 a.m. a stack of boxes in the loading dock area of the Spring Hill Suites by Marriott, No. 1 Riverfront Plaza, caught fire, said Fire Marshal Rich Barr.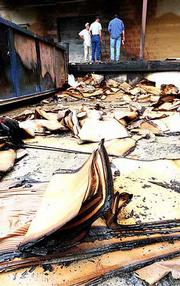 "It got hot enough to set off a sprinkler inside a door near the loading dock," Barr said.
Fire alarms awakened about 60 people staying at the hotel, employees said. Guests gathered in the lobby while the alarm was investigated but were allowed to returned to their rooms quickly. No evacuation of the building was necessary, employees said.
The fire caused an estimated $5,000 damage to the hotel's outside wall where the boxes were stacked, Barr said. A trash bin near the boxes also caught fire, he said.
Earlier, at 1:26 a.m., firefighters were sent to extinguish a fire in a trash bin behind Replay Lounge, 946 Mass. The fire was confined to the trash bin. No damage estimate was listed, Barr said.
Despite similarities, Barr stopped short of saying the fires were related.
"It's all under investigation," he said. "We're looking for leads.
Barr said he wasn't sure if the Marriott fire started in the trash bin or if the boxes were initially set on fire. The bin was located near the boxes, he said.
Copyright 2018 The Lawrence Journal-World. All rights reserved. This material may not be published, broadcast, rewritten or redistributed. We strive to uphold our values for every story published.