Mullens, W.Va. — Red mud filled thousands of homes and kept drivers stuck on mountain roads Monday after flash floods washed through the narrow valleys of southern West Virginia's depressed coal country, carrying off mobile homes and forcing residents to their rooftops.
Officials said up to 3,000 homes were damaged by water or mudslides, and some were destroyed. Police wouldn't let anyone drive cars down the hill into Mullens on Monday because so much mud filled the town after record flash flooding. Down the Guyandotte River, mud blocked roads into the town of Pineville.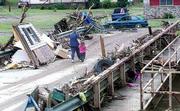 "I've been in some of these homes. There's mud two feet thick," said state Del. Lacy Wright. "There's instances where they don't even know where their homes are."
At least one person was killed in southern West Virginia as thunderstorms sped through the region Sunday. Three people were killed in neighboring eastern Kentucky, more than two dozen families were evacuated in southwestern Virginia, and thousands lost power in West Virginia, Indiana, Ohio and North Carolina.
The total cost of the damage was well over $20 million, said state Department of Military and Public Safety Secretary Joe Martin.
West Virginia Gov. Bob Wise, whose helicopter was used to pluck people off rooftops, had declared a state of emergency in eight counties.
"Let no one underestimate the severity of this flood," Wise said. "This is probably going to be the most costly flood in West Virginia's history."
Flooding after heavy rain is routine in the region, where most homes, roads and railroad tracks are squeezed together along creeks and rivers at the bottom of narrow valleys between steep mountains.
Nearly 8 inches of rain fell Sunday at Mullens, 55 miles south of Charleston, the National Weather Service said.
The Guyandotte and Tug Fork rivers jumped to record levels within hours, the Guyandotte peaking Sunday at 18 feet in Pineville, passing the 1997 record of 17.7 feet. A flood gauge in Welch quit working when the Tug Fork hit 17.8 feet, more than 4 feet above flood stage, the weather service said. Wright said the water rose 5 or 6 feet over Welch's 15-foot flood wall.
The U.S. Geologic Survey said flooding on parts of the Guyandotte River exceeded the 100-year flood level, the estimated maximum expected in a 100-year period.
"It's never happened here like this," said Bill Wade, 82. "I saw a school bus completely covered in water. I saw a casket floating down the street. I saw motor homes and mobile homes floating in front of me."
The same region was hit by repeated storms from May 15 through June 11, causing millions of dollars in damage. Sixteen counties were eligible for some type of federal disaster assistance from that flood, including most of those flooded again Sunday.
"I might leave now," said Doug Acord, 47, in Corinne, where the Guyandotte River normally is around 6 inches deep but ran about 20 feet deep on Sunday. "We just cleaned up a couple of months ago, and now this is worse. I'm getting tired of this."
Copyright 2018 The Associated Press. All rights reserved. This material may not be published, broadcast, rewritten or redistributed. We strive to uphold our values for every story published.