A Lawrence-based manufacturer of ultralight aircraft is diving for cover in bankruptcy court, hoping to pull out of a financial tailspin and resume production at Lawrence Municipal Airport.
DreamWings LLC, based inside a leased hangar at the city-owned airport, filed a Chapter 11 bankruptcy petition last week in U.S. Bankruptcy Court in Topeka, less than two weeks after it had laid off the last of its 15 employees.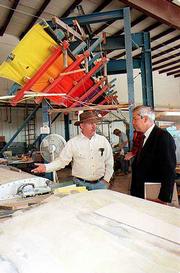 The company, founded in 1998 to design and manufacture kits for assembling one- and two-seat ultralight aircraft, has suspended operations as it faces debts of at least $1.4 million.
Of that total, the company owes $1.3 million to customers who previously placed deposits on orders for 145 aircraft kits that have yet to materialize. It hasn't sent the city a rent check for five months, racking up a debt of $17,500.
"We certainly want to get back to work on the airplanes," said John Hunter, the company's managing member and lone remaining employee. "It's real simple: We ran out of money."
Hunter said he hoped to "recapitalize" the company with money from outside investors in the coming weeks, under protection from the bankruptcy court. He acknowledges that a group of creditors is working to push him out, but promises to fight.
After twice having to scrap early development plans in favor of stronger, lighter materials, Hunter said he was confident that his company only was a mere six or nine months away from delivering its first ultralight kit.
"I view this as a speed bump, but it provides me with the opportunity to restart the company with a clean sheet of paper, knowing what I know now," Hunter said Monday. "It's purely a matter of money."
Kansas Innovation Corp., an early investor in the company, is pushing for a change. Its chief executive, Jeff Alhom, said that KIC and the state-sponsored Kansas Technology Enterprise Corp. had sunk at least $220,000 into DreamWings.
The money was spent on the promise of tapping into a growing market for such aircraft, popular among sports pilots for their relatively low costs and maneuverability. Sales of such planes were expected to double from 1999 to 2002, Alhom said.
"If there is an opportunity to save this business, I think it has to be done under new leadership," Alhom said.
KIC is a commercialization center owned by the city, Douglas County, Kansas University and KTEC.
Copyright 2018 The Lawrence Journal-World. All rights reserved. This material may not be published, broadcast, rewritten or redistributed. We strive to uphold our values for every story published.