KANSAS CITY, KAN. — Racing veteran Eddie Cheever Jr. has been one of the most outspoken opponents of what he perceived to be dirty racing in the Indy Racing League.
Imagine, then, the glee he felt when the Ameristar Casino Indy 200 came down to a thrilling late-lap duel between Cheever and IRL points leader Sam Hornish Jr. and was resolved, cleanly, in Cheever's favor on Sunday at Kansas Speedway.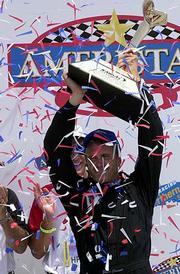 "Sam is fierce at the start, the middle, halfway though, three-quarters through, the 190th lap ," Cheever said. "But the thing I love about Sam is, he plays by the rules. If you have a run on him, he'll hold his line. He came up on me with nine laps to go, and it would have been very easy for me to shut the door, but he had raced clean the whole race.
"When I had a run on him, he didn't move over and let me by by a long shot, but he held the line and I had about a half foot."
That half foot was all Cheever a former Indianapolis 500 champion and the American record-holder for Formula 1 starts needed.
Cheever, who had led the 200-lap race since lap 146, had been chased down by Hornish, and finally Hornish nudged ahead on lap 191. Cheever reclaimed the lead briefly on 193, but Hornish retained it until the fourth and final turn of lap 198, when Cheever dive-bombed his way past Hornish.
Cheever held on for his first IRL victory of the season and fifth career IRL win.
The race, technically a sellout of 75,000 tickets, drew an estimated 70,000 fans Sunday.
"I knew I was in trouble with 25 laps to go, when I saw he was running with another car behind him," Cheever said. "Like in NASCAR, if you have two guys running together, you can work together, and I was a sitting duck because I was alone.
"If we would have had five more laps, he would have passed me again, and I would have passed him again."
There's no question Cheever had the best car all weekend. He led all but one practice session and qualified second, just behind pole-sitter Scott Sharp.
Amazingly, Cheever's final lap Sunday was made at 216.241 mph, faster than Sharp's pole lap.
"I had an advantage today," said Cheever, who pocketed $139,300 for his victory, "and it wasn't superior driving skill. It was the Infiniti powerplant in the rear of the car."
While that Infiniti has powered Cheever toward the front in several races this season, bad luck or bad driving has kept Cheever out of the winner's circle.
"It seems every time we'd get to the front, we'd get caught in somebody else's crash," said Cheever, who went on to praise Hornish for his late-race driving.
The praise carried a hint of scorn, particularly for Sharp, with whom Cheever has sparred on several occasions over driving styles.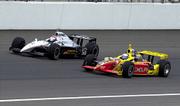 "If that sounds like a jab against some other drivers," Cheever said, "it's because it is."
Cheever then offered another dig at Sharp, who won the Indianapolis 500 pole, but crashed on the first lap.
"Anybody who's capable of spinning out off the pole like he did at the first lap at Indy obviously doesn't have his act together," said Cheever, who added that he does not like being "within a country mile of Scott Sharp on the track."
Cheever dominated Sunday's race, leading 104 of the 200 laps. Eliseo Salazar was a distant second with 32 laps led and finished seventh. Hornish was third with 25 laps led.
Pole-winner Sharp relinquished his lead before the first lap was finished and never made it back to the front. Though he reeled in Cheever and appeared primed to make a move for the lead, Sharp spun out on the third turn on lap 137 and crashed into the wall, sending him to a 17th-place finish.
Perhaps the biggest winner after Cheever Sunday was Hornish, who extended his Indy Racing Northern Light Series points lead to 60 over Buddy Lazier, 309-249. Lazier, who was bidding to become just the second driver in IRL history to win three straight races, placed fifth Sunday.
"I'll take second," Hornish said. "To keep finishing ahead of people close to me in the points I'll take that."
Hornish has been nothing but consistent this season. He has finished second in three straight races and has finished out of the top four just once.
"Everything I've done so far this year is, I try to go o ut and bring the car around," Hornish said. "If I have a car that can win it, I try to do that. If I don't, I try just to bring the car home."
Just bringing the car home intact had been the downfall of Donnie Beechler, the third-place finisher on Sunday. Beechler, who lost his ride and regained it just in time for this season's Indianapolis 500, is driving for A.J. Foyt Racing on a race-by-race basis.
His team runs on a shoestring budget by comparison and has no backup car.
"The last few races, I've been cautious just to roll the car in the trailer," Beechler said. "It was messing with me. I said after (last week's race), I have to race this thing like we have 10 cars. That's how I got this ride."
Beechler, who led three laps at the midway point, was the driver in Hornish's late-race wake.
"It's nice to go out there and race with guys like Eddie and Donnie that go out there and give people room," Hornish said. "They don't try to crowd them up on the wall. It's just a blast every time I get to race with them."
The race took 2 hours, 2 minutes and 29 seconds. There were 20 lead changes among eight drivers and six caution flags for 44 laps.
The IRL has signed to return to Kansas Speedway next July 7.
"The turnout was unexpected," Hornish said. "I'm pleased to see how many people came out, and I'm glad we put on a good show."
In the final race of the weekend, Kristian Kolby won the Dayton Indy Lights event Sunday afternoon in a photo finish. Kolby won by inches over second-place Damien Faulkner and third-place Townsend Bell.
---
1. (2) Eddie Cheever Jr., Dallara-Infiniti, 200, $139,300.
2. (5) Sam Hornish Jr., Dallara-Oldsmobile, 200, $105,650.
3. (11) Donnie Beechler, Dallara-Oldsmobile, 200, $72,450.
4. (6) Felipe Giaffone, G Force-Oldsmobile, 200, $58,750.
5. (12) Buddy Lazier, Dallara-Oldsmobile, 200, $54,250.
6. (22) Airton Dare, G Force-Oldsmobile, 200, $47,950.
7. (3) Eliseo Salazar, Dallara-Oldsmobile, 200, $48,650.
8. (9) Shigeaki Hattori, Dallara-Oldsmobile, 200, $45,200.
9. (8) Billy Boat, Dallara-Oldsmobile, 200, $45,200.
10. (14) Robby McGehee, Dallara-Oldsmobile, 200, $44,100.
11. (7) Mark Dismore, Dallara-Oldsmobile, 199, $42,800.
12. (17) Sarah Fisher, Dallara-Oldsmobile, 197, $41,600.
13. (18) Buzz Calkins, Dallara-Oldsmobile, 191, $40,500.
14. (10) Greg Ray, Dallara-Oldsmobile, 180, $39,200.
15. (20) Jeret Schroeder, Dallara-Oldsmobile, 147, accident, $27,000.
16. (16) Didier Andre, G Force-Oldsmobile, 138, mechanical, $36,000.
17. (1) Scott Sharp, Dallara-Oldsmobile, 136, accident, $48,100.
18. (13) Jaques Lazier, Dallara-Oldsmobile, 123, engine, $35,600.
19. (19) Jon Herb, Dallara-Oldsmobile, 101, engine, $23,400.
20. (15) Al Unser Jr., G Force-Oldsmobile, 82, electrical, $33,300.
21. (4) Robbie Buhl, G Force-Infiniti, 54, engine, $33,300.
22. (21) Billy Roe, G Force-Oldsmobile, 14, engine, $11,300.
Race Statistics
Winner's average speed: 148.914 mph.
Time of race: 2:02:29.2032.
Margin of victory: .1976 of a second.
Cautions: 6 for 44 laps.
Lead changes: 20 among 8 drivers.
Lap leaders: Salazar 1-32, Cheever 33-46, Hornish 47-49, Cheever 50-52, Hornish 53-59, Giaffone 60-61, Dismore 62-71, McGehee 72-77, Hornish 78-81, Cheever 82-90, Hornish 91-93, Beechler 94-96, Cheever 97-105, Hornish 106, B. Lazier 107-118, Cheever 119-139, B. Lazier 140, McGehee 141-145, Cheever 146-190, Hornish 191-197, Cheever 198-200.
Point Standings (after 8 of 13 races): Hornish 309; B.Lazier 249; Salazar 217; Giaffone 217; Sharp 214; Boat 181; Cheever 158; Dare 157; Calkins 156; Ward 144.
Copyright 2018 The Lawrence Journal-World. All rights reserved. This material may not be published, broadcast, rewritten or redistributed. We strive to uphold our values for every story published.