Former Lawrence public schools Supt. Dan Neuenswander always liked being in the field.
Not the realm of crops and livestock, but the domain of principals, teachers and students. Life as a superintendent was best, Neuenswander said, when he could escape administration headquarters and get into schools where children were honing their reading, writing and math skills.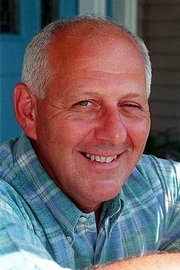 Neuenswander, nearly a decade removed as Lawrence's superintendent, is back on the home field.
He has been hired as the Lawrence school district's new school improvement specialist. It's a new, part-time position that pays $36,000.
"What that means is I'll be working with the principals and the site councils to help them stay focused on student performance," he said. "That's what feels good to me. I miss the opportunity to be in the buildings."
Supt. Randy Weseman said Neuenswander would use his education experience and diagnostic skills to help the district's administration and school board catch schools before they fall into crisis.
For example, lack of early intervention at East Heights School led to a blowup last year that ended with the suspension and resignation of the elementary school's principal. In addition to low staff morale and student discipline problems, East Heights' academic performance on standardized exams had been among the lowest in the district.
Neuenswander was called out of retirement by Weseman to examine East Heights' woes. Now, he will do it for all the district's 26 school buildings.
"I don't want a situation like East Heights to reoccur," Weseman said. "He fits into my whole school improvement scheme. I want to know if schools are not performing and what they need to be successful. Getting better is the name of the game."
Board approves hiring
Neuenswander had his appointment confirmed by the school board on a unanimous vote.
Mary Loveland, the only board member to work with Neuenswander when he was Lawrence's superintendent, said Neuenswander had an ability to connect with school leaders.
"I always thought he was somebody principals respected," she said.
Neuenswander had plenty of practice, given that he was superintendent of schools in Bartlesville, Okla., Garnett, Ottawa, Lawrence and Pittsburg. He left Lawrence to be superintendent in Pittsburg.
"That kind of experience and his approach and understanding of the community is an invaluable resource," board member Scott Morgan said.
Jack Davidson, another board member, said he strongly endorsed Neuenswander's hiring. They developed a relationship in 1999, when their political lives intersected.
That was the year Neuenswander lost a Republican primary election for the Kansas State Board of Education by 24 votes to John Bacon of Olathe. Davidson, a Lawrence Democrat, subsequently lost the general election to Bacon.
"He's a very serious guy," Davidson said of Neuenswander. "He's got a lot of experience."
Touring schools as a first objective
Neuenswander, a 63-year-old Baldwin resident, will begin the academic year by making the rounds at all the district's schools. Developing relationships with each school principal and members of each school site council is the top priority.
Beyond that goal, Neuenswander isn't sure how the job will unfold.
"It's probably one of those jobs nobody is sure what it is until we get into it."
Neuenswander said he prefers to work one-on-one or in small groups because of his diminished capacity to hear. That's the reason he retired early after serving 27 years as a school superintendent
He never anticipated returning to Lawrence, but is eager to collaborate with all the players in the district.
"I think it will fun to have an opportunity to be productive again," he said. "It will be fun to connect again."
Copyright 2018 The Lawrence Journal-World. All rights reserved. This material may not be published, broadcast, rewritten or redistributed. We strive to uphold our values for every story published.