There has never been a more exciting time to be a photographer amateur or professional.
Digital photography allows instant gratification with simple point-and-shoot operation. Moreover, camera software is easier than ever to navigate, and camera-to-computer hookup greatly simplified.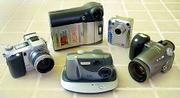 I recently brought home a digital camera system so easy to operate that in less than 10 minutes my 9-year-old son was taking pictures and e-mailing them to friends.
Still more good news for digital photographers is that the cost of digital cameras has dropped, along with their size and weight. Some cameras fit in the palm of your hand.
Here's a look at a few of the recent entries from 35 mm camera manufacturers into the fast-growing, ever-changing world of digital cameras.
Canon PowerShot Pro 90
Canon is well-known for optics, and that's what distinguishes this 2.6-megapixel camera. The Pro 90 has a built-in 10X zoom with optical-image stabilization, which reduces the number of blurry pictures caused by camera shake. Suggested retail price is $1,299.
Fuji FinePix 6800
If you like the look of the Porsche 911 sports car, you'll appreciate this 3.3-megapixel camera. That's because F.A. Porsche lent his style interpretation to it. The camera takes still pictures, plus videos with sound that can be e-mailed to family and friends. Suggested retail price is $899.
Kodak EasyShare System
This system consists of a point-and-shoot digital camera (2- and 3-megapixel models are available) and a docking station that hooks to a computer through the USB port. Load the camera software, place the camera in the docking station, press a button and you're set to play with your pictures on your computer. The Kodak DX3500 2.2-megapixel digital camera has a suggested retail price of $299. The docking station is $79.
Minolta Dimage 7
With 5.2 megapixels, a 7X zoom, several exposure control modes and through-the-lens viewing, this model could be considered a professional digital camera. For amateurs, the camera also offers simple one-touch operation capable of making exhibit-quality enlargements. Estimated retail price is $1,499.
Nikon CoolPix 775
One of the smallest and lightest digital cameras available, this model offers a resolution of 2.1 megapixels, easy-to-operate controls, a sleek design and a zoom lens. Suggested retail price is $450.
Olympus C-211 Zoom
This is actually two cameras in one: a 2.1-megapixel digital camera with a 3X optical zoom and a Polaroid camera, which uses Polaroid 500 film. The camera, with a backlit monitor for daylight viewing, shoots stills and videos. An accessory telephoto lens is available for portraits and sports shots. Suggested retail price is $599.
Do some window or Web shopping to find the digital camera that's right for you.
Copyright 2018 The Associated Press. All rights reserved. This material may not be published, broadcast, rewritten or redistributed. We strive to uphold our values for every story published.