TALLAHASSEE, FLA. — One minute, Dagmar Dow was treading water at a nudist resort on Big Moss Lake. The next, she was fighting for her life as a 9 1/2-foot alligator clamped its powerful jaws on her left foot and began to pull her under, its thick tail whipping her body.
"She went down like she was being sucked by a giant vacuum cleaner," said Dow's husband, Ray, from her bedside at Tampa General Hospital.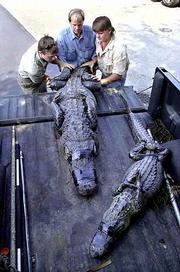 Ray Dow, who also was in the lake and was unsure at first what had caught hold of his wife, struggled to pull her free. The 350-pound gator finally let go. But Dagmar Dow's foot was left hanging by a few shreds of flesh. And although doctors were able to reattach the appendage, Dagmar Dow faces a half-dozen operations and a long recuperation.
The June 27 attack marked the sixth time Florida alligators have attacked people in the past three months in what authorities say is perhaps an inevitable result of what can happen when humans and alligators live too close together. Two of the victims were killed.
On May 4, the gnawed body of 70-year-old Samuel Wetmore was discovered in a Venice retention pond, an 8-foot alligator circling it protectively. An autopsy on the gator revealed some of the man's remains in the beast's stomach.
On June 23, 2-year-old Alexandria Murphy was dragged into a Polk County lake and drowned by a 6-foot-6 alligator that weighed five times more than the 32-pound toddler. Human hair was later found in the alligator's mouth.
And in a case that remains inconclusive, a human arm was recently discovered floating in a Fort Lauderdale canal, covered in alligator bites. Authorities could not say whether the victim, identified by fingerprints as a 51-year-old homeless man, had drowned or was yet another alligator statistic.
There have been 11 confirmed human fatalities caused by alligators since the Florida Fish and Wildlife Conservation Commission began keeping records in 1948, said spokesman Henry Cabbage. But significantly, he said, nearly all of them have occurred in the past 20 years as Florida development has soared and more people have begun to move into the gators' natural world.
Copyright 2018 The Lawrence Journal-World. All rights reserved. This material may not be published, broadcast, rewritten or redistributed. We strive to uphold our values for every story published.