A building that previously has been home to a bowling alley, bars, dance clubs and a natural foods grocery is about to get new life this time as a liquor store.
A new Cork & Barrel Wine & Spirits will open in August or September at 901 Miss., owner Dan Blomgren said. The building is the former home of Community Mercantile Co-op.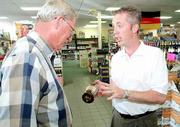 Blomgren remembers the building as The Palladium. That was in 1983, when the 18-year-old high school senior was mulling whether to attend Kansas University.
"It was the first bar I ever went to," he said. "The drinking age was 18 at the time, and I went to an all-guy high school. I went in there and a girl came up and asked me to dance. I thought, 'Life is good. I've got a beer, and a girl asks me to dance?' That's why I came to KU. I had such a great weekend that I had to come here."
A similarly effective revelation hit Blomgren a month ago on the way to church. He noticed the "for lease" sign, a vacant building and an empty, 40-space parking lot.
"I thought, 'Holy cow, that'd be a great location,' " he said. "I wasn't looking for it at all. It just came to me."
The building will give Blomgren 9,600 square feet to sell his beer, wine and liquor. It will be organized in the same layout as the main Cork & Barrel store at 23rd and Iowa streets, but be only 75 percent of the size.
Blomgren's wife, Jill Blomgren, will retain ownership of the larger store, while Dan Blomgren will own the new place.
To secure city, state and federal liquor licenses for the new location, Dan Blomgren said he would sell his other Cork & Barrel store in the Parkway Shopping Center at Clinton Parkway and Kasold Drive. The buyer is a family friend from Topeka.
The building at the edge of the Oread neighborhood became available last month, when Community Mercantile moved out for a larger home at 901 Iowa.
Allison Vance Moore, an agent for Grubb & Ellis/The Winbury Group in Lawrence, said that she received several inquiries from people interested in subleasing the building for use as a bar or nightclub.
But neither the Merc nor the building's ownership group led by Michael Messina and Joe Mandacina wanted to lease to such businesses.
"It was to preserve the neighborhood," Moore said. "The landlords and the Community Mercantile wanted to be good neighbors."
Dan Blomgren said the store building would require few interior changes, and would open soon after he had secured the proper licenses.
He said he'd signed a long-term lease for the site, one that he expects to pay off in the future especially on Saturdays for KU home football games, and as nearby downtown continues to redevelop and expand its shopping opportunities.
"Not only is it a good spot now, but it should be a good spot for years to come," he said.
Copyright 2018 The Lawrence Journal-World. All rights reserved. This material may not be published, broadcast, rewritten or redistributed. We strive to uphold our values for every story published.