San Quentin, Calif. — San Quentin State Prison, the forbidding, 149-year-old stone fortress that is home to California's death row, may have served its time.
Officials are considering closing the prison, or at least moving out the "worst of the worst" inmates.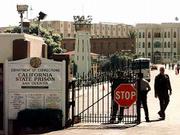 One of the main problems with San Quentin: With its byzantine corridors built during the Gold Rush, the prison has become increasingly dangerous for guards.
The prison, home to the acid-green gas chamber now used in lethal injections, houses about 5,700 men, including the more than 550 occupants of death row.
While death row generally is one of the quietest spots in the prison, attacks on guards have tripled in the past year and a half in the Adjustment Center, where the most disruptive condemned men are sent, officials say. Forty-five of the center's 85 inmates have attacked guards.
"It just simply isn't as secure as it should be to have that kind of inmate there," said Stephen Green, assistant secretary of the state Youth and Adult Correctional Agency.
On a sunny day, San Quentin bears a passing resemblance to a grand resort, a sweeping expanse of red-roofed buildings beside the shimmering San Francisco Bay. Up close, razor wire, cracked concrete and gun towers reveal the place for the aging fortress it is.
The prison began in 1852 when a two-masted ship dropped anchor off Point Quentin, loaded with convicts who were put to work laying stone.
No one guessed that this windy, briny outpost would one day become a stunning suburb connected to San Francisco by the graceful Golden Gate Bridge.
Built piece by uncoordinated piece, San Quentin has blind spots and murky alcoves.
In 1999-2000, it cost $11.3 million to cover basic costs at San Quentin, including maintenance. The bill for 9-year-old Wasco State Prison, which has about the same number of inmates, was $8.4 million.
Part of the nation's largest prison system, San Quentin does not have the no-contact design of modern prisons, which use remote-control doors and other innovations to keep prisoners separate from guards.
Instead, guards on death row have constant hand-to-hand dealings with inmates, pushing in and retrieving food trays, exchanging clean laundry for dirty, and escorting prisoners to showers and exercise yards
A study calculated that the prison grounds could be worth nearly $665 million if they were developed into homes.
If San Quentin is closed, inmates cannot simply be sent to other prisons, because they are already overcrowded. The study estimates it would cost more than $800 million to replace San Quentin with two new prisons elsewhere.
And California state law would have to be amended to move death-row inmates out of San Quentin.
Whether any of that will ever happen is unclear. Studies on closing San Quentin go back at least to 1984.
Inmate advocates oppose the idea of moving death row away from San Francisco, which is where a number of death-row lawyers practice.
Copyright 2018 The Associated Press. All rights reserved. This material may not be published, broadcast, rewritten or redistributed. We strive to uphold our values for every story published.