KANSAS CITY, KAN. — A season of Dodge domination gave way to a session, at least, of Chevrolet chest thumping.
Chevy Silverados claimed the top three qualifying spots Friday for today's NASCAR Craftsman Truck Series O'Reilly Auto Parts 250 at Kansas Speedway.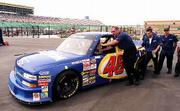 "It's pretty cool Chevrolet is 1-2-3," said Jack Sprague, who qualified third at 162.240 mph and 33.284 seconds around the 11*2-mile tri-oval.
"They've been beating on us pretty hard. If you look at our truck and you know anything about setup, we're doing some really weird stuff to run with those guys."
Care to define "weird stuff?"
"Ain't no way," Sprague said with a laugh. "Ain't no way. You just do what you gotta do."
Dennis Setzer won the pole in 162.411 mph, 33.249 seconds. Rick Hendrick was second at 162.250 mph, 33.282 seconds.
The pole was Setzer's first in 42 weeks.
"The truck's been in the top three, top five all day," Setzer said.
The three drivers at the top have been at the top all during practice. Hendrick was the fastest in practice Thursday, while Sprague was the fastest in the two practice sessions Friday leading up to the qualifying.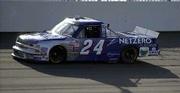 "We still hold the track record for fastest practice," Hendrick joked. "It doesn't mean anything, but we're still the fastest.
"We slowed up today. I actually overdrove it a little that first lap. We thought we could really get a fast lap in, but it was my fault because I overdrove it. We've been close to winning races, close to winning poles at least twice. It's time to start winning races."
Sprague, who has competed in every NASCAR truck race since the series' inception in 1995, thinks he was hurt by fate in his quest for a record-extending 17th pole. Sprague had to qualify first, meaning he had the most direct contact with the leftover tire compound on the track by the Dayton Indy Lights cars that practiced before the NCTS qualifying.
"Ricky won both practices yesterday and I won both practices today. But we had to go out first on the Firestone rubber," said Sprague, who holds series records for laps led, laps completed, miles led, miles completed, money won, top-five and top-10 finishes. "It's just luck of the draw, and we drew first."
Sprague would love to be the first to win a NASCAR Craftsman Truck race at Kansas Speedway.
"There's something special about the first time you go to a new track," Sprague said. "Everything is new and it really levels the playing field for all the teams. The team that will adapt the quickest will have the best shot at winning. Hopefully, we'll be that team. You always want to be the first one to be listed as a race-winner in the record book."
Kansas Speedway's smooth racing surface could have a hand in today's race-day strategy.
"Tire wear is very minimum here," Setzer said. "There's no tire wear here. You might see some gas-and-go's in the race."
The O'Reilly Auto Parts 250 will begin at noon today. The event is sold out.
Copyright 2018 The Lawrence Journal-World. All rights reserved. This material may not be published, broadcast, rewritten or redistributed. We strive to uphold our values for every story published.