Taipei, Taiwan — Typhoon Utor on Thursday swirled over southern Taiwan and the northern Philippines killing 37, flooding homes, triggering mudslides and stranding hikers before barreling toward China.
Separately, in Vietnam, 22 people were killed in flooding related to Typhoon Durian.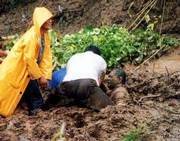 Philippine taxi driver Reynaldo Duque took his pregnant wife and two daughters from his hut to his parent's nearby stone house to escape the storm. Instead of a refuge, it became their grave.
A massive mudslide roared down the mountain, burying the house, Duque's family, and his parents.
They were six of the 36 people who died in the typhoon in the Philippines, where another 16 were missing and an estimated 25,000 were forced from their homes, the northern Regional Disaster Management Center said.
Hardest hit by Utor, which means "squall" in the language spoken on the Marshall Islands, were the mountainous provinces in the northern Philippines, where Duque and his family died.
In Taiwan, where the outer edges of the storm hit the south, one person was killed when he was swept into the ocean near the city of Hualien. Six others were injured, disaster official Wu Chiao-wen said.
The typhoon, packing maximum winds of 74 mph and gusts of up to 92 mph, appeared to be losing strength as it whirled across the South China Sea, said the Joint Typhoon Warning Center in Pearl Harbor, Hawaii.
The typhoon's center never hit Taiwan, but the storm's 217 mile perimeter one of the largest to hit the island in 20 years brought high winds and heavy rains that caused flash floods and landslides in the southern part of the country.
Losses from flooded farm lands and washed-away fisheries were estimated to reach $2 million, the Council of Agriculture said.
Copyright 2018 The Associated Press. All rights reserved. This material may not be published, broadcast, rewritten or redistributed. We strive to uphold our values for every story published.