Washington — Millions of Americans are getting notices in the mail that aim to clear up one of the murkiest areas of modern telecommunications: long-distance rates.
For the first time, telephone companies must give all consumers a way to find out exactly what they are paying to dial friends and family in other states. Long-distance carriers also must warn people of rate increases or other changes.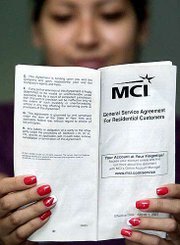 Although millions of Americans sign up for calling plans knowing the specific per-minute or monthly rates, these prices can go up at any time without being reflected on a bill. And consumers may not remember how much their service costs at which times of day.
People who do not choose a calling plan nearly half of AT&T;'s customers, for example may have no idea what rates they are paying.
Under changes in federal law that take effect Aug. 1, companies must establish a direct contract with their users similar to the relationship credit card companies have with customers.
Already AT&T;, WorldCom and other major carriers have started sending to their subscribers agreements that outline specific terms and conditions of service.
The mailers consumers are receiving now either tell them the rate they are paying or where they can find that information. The companies also are letting subscribers know where to find details of future increases. Customers could look them up on Web sites, check toll-free hot lines, wait for calls from the companies or find notices with their monthly bills, under the options carriers are implementing.
"This change will require long-distance phone companies to abide by the same consumer protection laws as any other company does," said Dorothy Attwood, the Federal Communication Commission's top official for phone matters.
The move "will go a long way toward giving consumers the information they need to choose a company and plan that's best for them," she said.
Until now, a century-old doctrine obligated the nation's long-distance carriers to tell only the government not subscribers about rate hikes.
The system, a carry-over from the days of the Bell telephone monopoly, allowed the government to approve rates to make sure consumers weren't getting gouged. But once the long-distance market became competitive, the FCC stopped reviewing the filings.
Now, customers of WorldCom's MCI long-distance service are receiving 31-page booklets that detail the company's policies including a promise to tell subscribers 15 days in advance of rate changes.
Copyright 2017 The Associated Press. All rights reserved. This material may not be published, broadcast, rewritten or redistributed. We strive to uphold our values for every story published.