New York — Safeco Field is being redone in pinstripes for next week's All-Star game.
American League manager Joe Torre selected seven players from his three-time World Series champions nearly one-third of the New York Yankees' roster for Tuesday's game in Seattle, including four of the pitchers on his 10-man staff.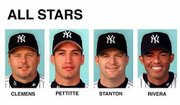 "I don't apologize for taking seven Yankees," Torre said Wednesday in Baltimore, where the Yankees played the Orioles. "I think they all have numbers that make their choice appropriate."
Starters Roger Clemens and Andy Pettitte were picked along with closer Mariano Rivera, setup man Mike Stanton, shortstop Derek Jeter, outfielder Bernie Williams and catcher Jorge Posada.
'I don't mind," Boston's Manny Ramirez said. "We win the World Series this year, maybe Jimy (Williams) can pick seven Red Sox next year."
The Yankees are the first team with seven All-Stars since Atlanta in 1997 and the first AL team since Toronto in 1993. It is the first time seven Yankees were picked since 1962.
"The guys selected all deserve to go," Jeter said. "People are going to say some players should go and some players shouldn't go, this guy and not this guy. But that happens every year, regardless of who is the manager and who's chosen."
Freddy Garcia and Kazuhiro Sasaki of the Mariners also were picked for the AL staff by Torre, giving the host Mariners six players on the 30-man roster. The AL clubhouse will look like a rematch of last year's AL championship series, won by the Yankees in six games.
The NL roster was more notable for its omissions than its selections: No Mark McGwire, no Ken Griffey Jr. Both perennial All-Stars have been injured for much of this year.
San Diego's Tony Gwynn, injured for much of the past 1 1/2 years, also was bypassed but was invited as a special guest. Gwynn, a 15-time All-Star, and Baltimore's Cal Ripken, a 19-time All-Star with his election to start at third for the AL, have said they intend to retire after this season.
NL manager Bobby Valentine, like Torre, has nine first-time All-Stars. But has just two players from his defending NL champion Mets, including Mike Piazza, elected to start at catcher.
"I didn't know they were taking seven guys when I submitted my list," Valentine said. "I had so many things to think about that I probably would have discounted that. I only looked at the first half of the season, being that it is this year's All-Star game."
Completing the AL staff are Minnesota's Eric Milton and Joe Mays, Anaheim's Troy Percival and Toronto's Paul Quantrill, also a setup man. Torre didn't take Seattle's Aaron Sele (9-1) or Jamie Moyer (9-3).
Other AL backup infielders picked were Cleveland's Roberto Alomar, Detroit's Tony Clark, Oakland's Jason Giambi, Anaheim's Troy Glaus, Minnesota's Cristian Guzman and Kansas City's Mike Sweeney.
Chicago's Magglio Ordonez and Tampa Bay's Greg Vaughn also were selected as backup outfielders.
Valentine took 11 pitchers: Atlanta's John Burkett, Colorado's Mike Hampton, Arizona's Randy Johnson and Curt Schilling, Chicago's Jon Lieber, St. Louis' Matt Morris, Los Angeles' Chan Ho Park and Jeff Shaw, Rick Reed of the Mets, Milwaukee's Ben Sheets and Houston's Billy Wagner.
Overlooked was Atlanta's Greg Maddux (9-5), who leads the league with a 2.38 ERA.
Florida's Charles Johnson is the backup catcher and may start because Piazza has a broken toe. Piazza hopes to return to the Mets' lineup as a designated hitter this weekend at Yankee Stadium and could be back behind the plate Tuesday.
"I would like to if I can," he said. "We'll just see. I'm leaving everything open."
Selected as the reserve infielders were Sean Casey of the Reds, Ryan Klesko and Phil Nevin of the Padres, Jimmy Rollins of the Phillies and Albert Pujols of the Cardinals.
Backup outfielders include Moises Alou and Lance Berkman of the Astros, Brian Giles of the Pirates, Vladimir Guerrero of the Expos and Larry Walker of the Rockies.
Valentine said he didn't bypass Florida's Cliff Floyd, who is hitting .337, because of their spat earlier this year.
"Please don't embarrass me with questions like that," Valentine told reporters. "He's not going because other guys are more deserving like Alou and Berkman or any of the other guys right on the edge. He's one of about seven guys who's not going because there's a 30-man roster."
Four Seattle players first baseman John Olerud, second baseman Bret Boone, outfielder Ichiro Suzuki and designated hitter Edgar Martinez will be in the AL starting lineup, which also includes Ripken, Ramirez, Texas shortstop Alex Rodriguez, Texas catcher Ivan Rodriguez and Cleveland outfielder Juan Gonzalez.
Elected to start for the NL were Colorado first baseman Todd Helton, San Francisco second baseman Jeff Kent and shortstop Rich Aurilia, Atlanta third baseman Chipper Jones, Piazza, San Francisco outfielder Barry Bonds, Chicago outfielder Sammy Sosa and Arizona outfielder Luis Gonzalez.
Several of the players got bonuses, included $100,000 for Park, which raised his earnings this year to $10 million.
Giles got an automatic raise from $7 million to $7.5 million in both 2003 and 2004 because he made the NL team for the second straight time and Guerrero's selection earned him an increase from $11 million to $11.5 million in 2003.
Copyright 2018 The Associated Press. All rights reserved. This material may not be published, broadcast, rewritten or redistributed. We strive to uphold our values for every story published.