Minneapolis — Kedra Holland-Corn scored 25 points as the Sacramento Monarchs beat the Minnesota Lynx 91-52, Tuesday night, extending their winning streak to four games.
The loss was the most lopsided in franchise history for Minnesota. Sacramento also set a record for the most points scored by a Lynx opponent.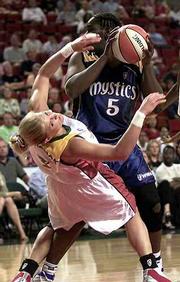 Sacramento's 46-15 lead at the intermission tied the record for the largest halftime advantage in WNBA history. Houston led Miami 44-13 at halftime on June 15, 2000.
Cindy Blodgett hit five three-pointers and scored a career-high 19 points for Sacramento (9-6), which shot 14-for-21 from three-point range.
Minnesota's Katie Smith, the WNBA's leading scorer, left the game with 6:34 left in the first half after sustaining a cut on the forehead. Smith received stitches to close the cut and returned in the second half. She finished with 18 points.
Sting 66, Liberty 61
Charlotte, N.C. Andrea Stinson scored 20 points as Charlotte extended its winning streak to four games. Allison Feaster scored 12 points and Dawn Staley added 10 points and eight assists for Charlotte (5-10). Vickie Johnson scored 16 points for the Liberty (10-5), who lost for just the second time in 11 games. Tari Phillips had 15 points and 12 rebounds.
Sparks 84, Starzz 71
Los Angeles Lisa Leslie scored 18 points and Latasha Byears added 17 as Los Angeles improved to 6-0 at Staples Center with a victory over Utah. Tamecka Dixon added 13 points and seven assists for the Sparks (12-3), who shot 53 percent. Jennifer Azzi hit five three-pointers and led the Starzz (5-8) with 19 points.
Mystics 72, Storm 69, 4 OT
Seattle Helen Luz scored eight of her 11 points in the fourth overtime as Washington beat Seattle in the first quadruple overtime game in WNBA history. Nikki McCray scored 20 points for the Mystics, who won their third straight overall and first road game of the season. Chamique Holdsclaw had her eighth double-double of the season with 14 points and 15 rebounds.
Copyright 2018 The Associated Press. All rights reserved. This material may not be published, broadcast, rewritten or redistributed. We strive to uphold our values for every story published.