Beijing — The last pieces of a disassembled U.S. Navy spy plane were flown Tuesday out of southern China, closing a tense chapter in Chinese American relations that both sides seemed eager to put behind them.
The fuselage of the EP-3E and equipment used to dismantle the plane were packed onto a huge Antonov-124 cargo aircraft that headed for Hawaii after making a refueling stop in Philippines.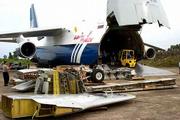 "By every measure, the cooperation from the host nation was outstanding," Navy Cmdr. John Fleming said of the Chinese attitude toward the U.S. workers who disassembled the plane.
"Things went extremely smoothly," he said. "It was a very well-orchestrated operation."
The EP-3E, loaded with sophisticated electronic surveillance equipment, made an emergency landing April 1 on Hainan island after colliding with a Chinese fighter sent to intercept it over the South China Sea.
The collision and China's 11-day detention of the U.S. crew caused the worst tensions between Beijing and Washington since the bombing of China's embassy in Yugoslavia by U.S. planes in 1999.
But China softened its tone considerably after a deal was struck last month to dismantle the aircraft and ship it home, seemingly indicating a desire to moderate the long-term effect on ties with Washington.
"China-U.S. relations, though having encountered difficulties recently, now have momentum for improvement," Chinese Foreign Ministry spokeswoman Zhang Qiyue said Tuesday at a regularly scheduled news conference.
In Washington, State Department spokesman Richard Boucher said the United States also was pleased the issue had been resolved.
"We do seek a productive relationship with China," he said. "We don't see China as an enemy. We don't think China should see us as one."
The EP-3E was being flown to a Lockheed Martin facility in Marietta, Ga., where it would be reassembled in preparation for returning to service.
Other parts of the aircraft have been taken to Kadena Air Base on the Japanese island of Okinawa, Navy officials said.
On Tuesday, an editorial in the official China Daily again blamed the United States for causing the tensions by refusing to apologize for the collision and "putting the blame on the victim."
But the editorial expressed confidence that President Bush would guide relations back to a more stable footing and that problems could be worked out through dialogue.
"As to those deep and structural contradictions in Sino-U.S. relations, both countries should face them squarely. Dialogue and cooperation will help reduce antagonism," said the editorial, signed by a researcher at the government's Chinese Academy of Social Sciences.
China hopes to win approval as host of the 2008 Olympic Games at a vote July 13 in Moscow and seeks to complete negotiations to join the World Trade Organization this year. Both tasks would be helped by stable ties with Washington and an improved image as respecting international rules.
Observers say China also wants smooth foreign relations to avoid disruptions during a sensitive leadership transition period. Chinese President Jiang Zemin and other key leaders are expected to resign their Communist Party posts next year and give up their government jobs in 2003.
Copyright 2018 The Associated Press. All rights reserved. This material may not be published, broadcast, rewritten or redistributed. We strive to uphold our values for every story published.