Have a little extra padding on your thighs and tummy?
John Harrison might be the reason why.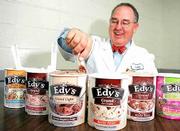 He's the official taste tester and flavor formulator for Edy's Grand Ice Cream, the leading manufacturer of premium ice cream in the United States.
It's Harrison's job to know what your sweet tooth craves. He devises ways to blend ingredients like fresh cream, fruit and chocolate into delectable new flavors that will overcome the willpower of even the most disciplined and weight-conscious American.
The result: taste sensations like New York Blueberry Cheesecake, Peanut Butter Cup and Malt Ball 'N Fudge.
In 1983, Cookies 'N Cream vanilla ice cream filled with crushed Oreo cookies became an instant hit with consumers. Soon after its debut it climbed to No. 5 on the list of best-selling ice cream flavors in America.
And Harrison, working for Edy's, was the main man behind the cookie flavor.
His company so values Harrison's finely trained sense of taste that it has insured his taste buds for $1 million.
"The average person's tongue has about 9,000 taste buds," Harrison said. "That means I am insured for $111 per bud."
The tools of his trade are a thermometer to check the ice cream's temperature and a gold-plated spoon for sampling.
"Wood or plastic spoons have an aftertaste, and silver tarnishes," he explained.
'The greatest job'
Harrison recently visited Lawrence during a regional tour. On his trips he purchases Edy's ice cream at supermarkets for sampling and trains the company's customer relations and sales employees.
While here, he set aside some time to talk about the smooth, sweet life of an ice cream tester.
Harrison, 59, swears he never gets sick of eating ice cream every day.
"I love it are you kidding? I wake up in the morning with a big smile on my face," he said. "I have the greatest job in the world."
You could measure Harrison's lifetime by the gallon.
His great-grandfather had a chain of ice cream parlors in New York City at the turn of the century. His grandfather started the first dairy co-op in Tennessee, and his uncle owned an ice cream factory in the South.
And Harrison's dad was in the business, too he owned an ice cream ingredients factory in Atlanta.
"I know ice cream from the ground up," Harrison said. "My blood runs 16 percent butterfat."
But he doesn't rely on genetics alone for his work. Harrison earned a bachelor's degree in chemistry in 1960 from what was then called Memphis State University.
He has spent more than 30 years in the industry, the last 19 of them with Edy's, which markets about 125 frozen flavors. Each year, the company retires 15 flavors from its lineup and introduces 15 new ones.
When Harrison started at Edy's, he was a department of one. Now he works with a team of 35 food and dairy scientists. In his years with the company, he has helped develop about 100 flavors.
A big part of his job is sampling Edy's ice cream products for quality and taste consistency.
The company claims he has tasted from more than 180 million gallons of ice cream. And he has eaten ice cream in the line of duty, of course day after day for years, both in the Edy's lab and on the road.
"It needs to be smooth and creamy," Harrison said. "I'm testing for ice cream that's too cold, coarse, icy or fluffy. These qualities don't belong in premium ice cream, and that's what I'm looking for."
Weighty responsibility
There's a reason Harrison is able to sample so much ice cream without swelling to blimplike proportions: He doesn't swallow it.
He describes his particular method as the three S's swirl, smack and spit.
"I take a small amount off the top and cover all 9,000 taste buds," Harrison said. "Then I aerate it, smacking my lips to bring in the room temperature, warm it up some more and drive that top bouquet to my olfactory nerve.
"After I roll it around in my mouth for four or five seconds, I spit it into a 55-gallon drum."
He does admit his job is catching up with him a bit, though. Each morning, there are about 60 packages of ice cream waiting for him to sample.
"I weigh about 240 pounds," he said. "When I joined the company, I weighed about 180."
Not all of the potential flavors he comes up with in the lab make their way to supermarket shelves.
Two that failed: Pickles 'N Cream, with chopped pickles, pickle juice and vanilla ice cream tested on 1,500 expectant mothers and jalapece cream, made with green mole sauce and pepper juice.
"We put that one (the jalapelavor) way back in the recipe drawer," Harrison said.
Of the products Edy's does market, his least favorite flavors are Green Tea popular in California and Bubble Gum.
And his favorite?
"Vanilla Bean there's nothing like a good bowl of vanilla ice cream," he said. "No wonder it's the No. 1 flavor in the country. Marvelous aroma and flavor."
Copyright 2018 The Lawrence Journal-World. All rights reserved. This material may not be published, broadcast, rewritten or redistributed. We strive to uphold our values for every story published.