He was a Beach Boy who never surfed and a melancholy soul who wrote songs about "Fun, Fun, Fun." Tonight he receives accolades on "An All-Star Tribute to Brian Wilson" (7 p.m., TNT). Like previous tributes to Johnny Cash and Joni Mitchell, this ensemble concert presents a wealth of musical talent and interpretive performances that range from embarrassing to sublime.
Ricky Martin gets the embarrassing out of the way pretty quickly with versions of "California Girls" and "Help Me, Rhonda" that rival one of Bill Murray's lounge-act spoofs. One never thinks of Paul Simon enjoying himself on the beach, and his bleak adaptation of "Surfer Girl" only confirms that suspicion.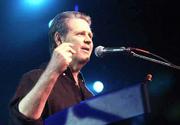 The interpretations improve as the talent turn to Wilson's more challenging and contemplative works. It's no exaggeration to say that Vince Gill has the voice of an angel. And the name of that angel is Roy Orbison. Gill's interpretation of "Warmth of the Sun" is quite moving and beautiful. So is Aimee Mann and Michael Penn's version of "I Just Wasn't Made for These Times."
"Good Vibrations" has long been considered one of the best-produced studio singles of all time, but that doesn't stop Heart, Jubilant Sykes and the Harlem Boys Choir from taking an admirable crack at it. "Surf's Up," the gorgeous fragment from Wilson's never-completed collaboration with Van Dyke Parks, is bravely performed here by David Crosby, Vince Gill and Jimmy Webb. Brian Wilson, who emerged in the mid-1990s after decades of mental illness and inactivity, joins the all-star ensemble at the end of the show to perform a number of his hits, most notably "Heroes and Villains."
Other notable performers include Elton John, Billy Joel and the Go-Go's. Cameron Crowe, Dennis Hopper and Sir George Martin toast Wilson's talents. Born far from the warm California sun, Bronx-born actor Chazz Palminteri is your host.
l More traditional Fourth of July fare can be found on "A Capitol Fourth" (7 p.m., PBS). Barry Bostwick hosts this 20th-anniversary gathering on the west lawn of the U.S. Capitol. Performers include Luther Vandross, the Pointer Sisters and the Irish Tenors. Erich Kunzel conducts the National Symphony Orchestra.
l The Boston Pops celebrates its 72nd annual July Fourth concert on "Pop Goes the Fourth!" (6:30 p.m., A&E;). Conductor Keith Lockhart leads the festivities that include performances by Arlo Guthrie, Debbie Reynolds and Cyndi Lauper. And while Napoleon's siege of Moscow has nothing to do with American independence, nothing goes with fireworks like Tchaikovsky's "1812 Overture."
l In New York, Harry Connick, Jr. hosts performances by Bon Jovi, Jessica Simpson and the cast of the Broadway musical "42nd Street" on the "Macy's 4th of July Fireworks Special" (8 p.m., NBC).
Tonight's other highlights
l Tina Turner bids her concert fans goodbye on the repeat of "Tina Turner One Last Time Live" (7 p.m., CBS).
l Billy Zane, Gloria Reuben and John C. McGinley star in the 2000 thriller "Sole Survivor" (7 p.m., Fox, part one of two). Concludes Thursday.
l The 1997 mob miniseries "Bella Mafia" (8 p.m., CBS) concludes.
l Musical rivalries lead to murder on "Law & Order" (9 p.m., NBC).
l Diane Sawyer and Charles Gibson host "Independence Day 2001" (9 p.m., ABC), featuring dramatic readings from the Declaration of Independence by Mel Gibson, Kevin Spacey and others.
Series notes
l All are repeats .... Magic wars on "Ed" (7 p.m., NBC) ... On two episodes of "The Drew Carey Show" (ABC), April fools (7 p.m.) and intimations of mortality (8 p.m.) ... On back-to-back episodes of "Star Trek Voyager" (UPN), an attack on the Resistance (7 p.m.), Harry takes the helm (8 p.m.) ... A witch in the woods on "Dawson's Creek" (7 p.m., WB)... Death and tragedy on "Buffy The Vampire Slayer" (8 p.m., WB).
Copyright 2018 The Lawrence Journal-World. All rights reserved. This material may not be published, broadcast, rewritten or redistributed. We strive to uphold our values for every story published.