United Nations — In a victory for Baghdad, the Security Council extended the U.N. humanitarian program for Iraq on Tuesday after Russia threatened to veto a U.S.-British proposal to overhaul sanctions against the oil-rich Mideast nation.
Council action on the oil-for-food program came hours before the midnight expiration of the 4 1/2-year-old program, which allows Iraq to sell oil to buy food, medicine and other essential goods.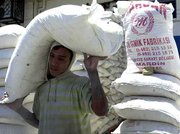 The vote approving a five-month extension of the humanitarian effort came after Moscow reluctantly agreed to mention a June 1 council resolution, which expresses the council's intention to eventually consider the elements of a sanctions overhaul.
Britain decided against pressing for a council vote on its U.S.-backed plan to overhaul the 11-year-old sanctions against Iraq in order to try to win Moscow's support in the coming months and avoid a contentious Russian veto.
"The ones that have lost the most are in fact the Iraqi people," Acting U.S. Ambassador James Cunningham said. "We will use the time before the next rollover to press ahead with our approach. We have come too close to agreement to concede this one to Baghdad."
Russia's U.N. Ambassador Sergey Lavrov said: "I don't believe it was a victory for anyone except the humanitarian program."
"The most important thing was to make sure the humanitarian program proceeds and this was achieved," he said.
Under council resolutions, sanctions imposed after Saddam Hussein's 1990 invasion of Kuwait cannot be lifted until U.N. inspectors certify that Iraq has dismantled its weapons of mass destruction and long-range missiles.
Weapons inspectors left Iraq ahead of U.S.-British airstrikes in December 1998, and Baghdad has since barred them from returning.
To reach agreement on the extension, the British and Americans dropped a reference to the Security Council's "determination" to agree to a new system of sanctions "at the earliest opportunity."
But a reference to a June 1 resolution extending the oil-for-food program for one month, which included the guts of the British sanctions overhaul, remained. The U.S.-backed British plan calls for lifting most restrictions on civilian goods entering Iraq, plugging up lucrative Iraqi smuggling routes and tightening enforcement of the arms embargo.
Iraq, which halted its oil exports a month ago to protest the overhaul resolution, said Monday it would resume oil shipments if the humanitarian program was extended without any mention of the U.S.-British plan.
After the vote, Iraqi U.N. Ambassador Mohammed al-Douri declined to say what Baghdad will do. But he said the reference to the June 1 resolution "is unacceptable in principle."
Copyright 2018 The Associated Press. All rights reserved. This material may not be published, broadcast, rewritten or redistributed. We strive to uphold our values for every story published.