Buckeye, Ariz. — A 14-year-old boy died at a boot camp where troubled youngsters were allegedly kicked and forced to eat mud.
Anthony Haynes of Phoenix died Sunday at the America's Buffalo Soldiers Re-enactors Assn. camp near Buckeye, where the regimen includes forced marches, black uniforms, and a daily diet of an apple, a carrot and a bowl of beans. Temperatures Sunday had climbed as high as 114 degrees.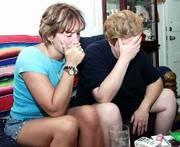 The boy's mother, Melanie Hudson, said the camp director told her Anthony had eaten dirt and refused to drink water.
"They said he collapsed, that he had been throwing up mud," she said. "They told me he had been eating dirt that day, that they were trying to hydrate him and that he kept spitting the water back out."
Maricopa County Sheriff Joe Arpaio said he was treating the death as suspicious and awaiting autopsy results to determine the cause. "There have been some serious allegations of abuse at that boot camp," he said.
Authorities removed about 50 children from the camp, about 40 miles west of Phoenix, and returned them to their families. The boy had been about a week into a five-week program for troubled youngsters sent there by their parents.
Unidentified former drill instructors at the camp told The Arizona Republic that youths were kicked and forced to swallow mud.
The private group that runs the camp referred calls to attorney Larry Hammond, who did not return calls for comment. But camp director Charles Long told KSAZ-TV: "Our camp is a rough camp, but we endure it. When the facts come out about what happened, it's not the components of this program that's the problem."
Authorities said the children slept outdoors in sleeping bags on concrete slabs and had been under the supervision of 17- and 18-year-old staff members since at least Wednesday. No medical personnel were at the camp, Arpaio said.
"If you do have this type of environment, you have to make sure it's humane," he said.
Copyright 2018 The Associated Press. All rights reserved. This material may not be published, broadcast, rewritten or redistributed. We strive to uphold our values for every story published.