Philadelphia — Naomi Williams has experienced a major loss, and she couldn't be happier about it.
"I started out at 240 pounds, and today I'm 159," said Williams, who received a miniature Liberty Bell on Tuesday for being the biggest loser among 20,000 Philadelphians who exercised and cut calories in a five-month campaign to shed the city's image as a bunch of fatties stuffing their faces with cheesesteaks, hoagies, Tastykake pastries and pork scrapple.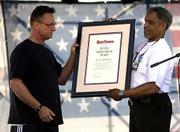 The 76 Tons of Fun campaign began Feb. 7 with the goal of getting Philadelphians to lose a collective 76 tons in 76 days. But the program was extended as more corporate sponsors and participants signed on.
The city ultimately decided to hold the final weigh-in on Tuesday. Participants were stepping on the scales all day, with their lost poundage to be tallied by today.
Williams joined a gym in January but became motivated by the city's campaign.
"Now I work out five days a week. I have a personal trainer. I stay away from pretzels, pasta and a lot of carbohydrates," the 45-year-old lawyer said. "And I feel great."
Louise A. Bungy, 45, dropped from 205 pounds to 154 pounds in 18 months.
"I ate everything: fried chicken, cheesesteaks, you name it, I ate it," she said. She credited the campaign with giving her the idea to take a brisk 30-minute walk every day with her co-workers.
In 1999, Men's Fitness magazine pronounced Philadelphia the nation's fattest metropolis, based on the number of fast-food joints and health clubs.
The city teamed up with basketball's Philadelphia 76ers on the weight-loss campaign, highlighting ways of shedding pounds and giving participants charts to track their progress. Health clubs offered discounts, businesses sponsored lunch-hour workouts and restaurants offered leaner dishes.
"We've got the greatest restaurants, we love good food, but we were too fat," 57-year-old Mayor John F. Street, who weighed around 250 pounds as a young man and is now down to about 190.
Copyright 2018 The Associated Press. All rights reserved. This material may not be published, broadcast, rewritten or redistributed. We strive to uphold our values for every story published.