The library at Kansas University's School of Law will soon expand its American Indian law collection.
The Kansas Library Network Board recently approved an $8,671 grant for the purchase of additional books and microfiche.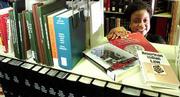 "This grant allows us to increase our holdings in this area," said Joyce McCray Pearson, director of the KU law library.
The collection already includes books, treaties, handbooks, periodicals, microfiche, indexes and tribal codes and statutes.
The collection supports researchers interested in Indian nations and tribes and KU's Tribal Law and Government Center, the nation's only law-school curriculum designed for students wanting to practice tribal law.
"Effectively representing Indian nations and tribes requires an understanding of the laws, history and policies that affect them," said Joseph Custer, the library's associate director and author of the grant.
"The grant money," he said, "will assure that undergraduate and law students will have access to the necessary books and microfiche that embody the extremely complicated body of federal, state and tribal law that form the unique nature of the indigenous tribal legal system."
The grant program is funded by the State of Kansas and is administered by the Kansas Library Network Board, a division of the state library in Topeka.
Copyright 2018 The Lawrence Journal-World. All rights reserved. This material may not be published, broadcast, rewritten or redistributed. We strive to uphold our values for every story published.