New York — The European Union vetoed General Electric's $41 billion purchase of Honeywell International on Tuesday the first time a merger of two U.S. companies has been stopped solely by European regulators.
The decision by the EU's 20-member Competition Commission in Strasbourg, France, was unanimous.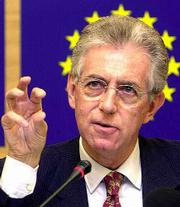 The merger "would have severely reduced competition in the aerospace industry and resulted ultimately in higher prices for customers, particularly airlines," said Mario Monti, EU competition commissioner.
Jack Welch, GE's chief executive, left open the possibility of an appeal, characterizing the widely expected rejection as a "setback." But analysts said the deal one of the biggest industrial mergers in history likely is dead.
As a result of the failed deal, Michael Bonsignore, Honeywell's chairman and chief executive, will be ousted by the company's board of directors, The Wall Street Journal reported.
The proposed merger had won regulatory approval from U.S. antitrust regulators but ran into resistance from the EU, angering some members of Congress. President Bush also expressed concern.
To do business in Europe, U.S. companies must comply with EU law, just as European companies must abide by U.S. law to do business in America.
The commission vetoed the deal after executives failed to allay European fears that their merged company would dominate markets for jet engines and aircraft electronics.
Of the 15 mergers rejected by the commission since 1990, six have been taken to court. None of the challenges has been successful.
The combined company would have been a behemoth.
Honeywell, with some 120,000 employees worldwide, makes industrial materials such as plastics and chemicals as well as equipment for aerospace systems, power generation, transportation and factories.
It has an avionics plant in Lawrence.
GE is best known for making light bulbs and appliances, but it also includes NBC and makes power plant parts and aircraft engines. It has 313,000 employees.
EU officials point out that trans-Atlantic antitrust cooperation is generally good. As evidence, Monti noted that the two sides of the Atlantic usually reach the same decision, a tribute to daily contacts and close cooperation between the agencies.
Of nearly 400 cases involving U.S. companies reviewed in Brussels since 1990, only one deal WorldCom-Sprint was barred. And Washington moved to block it the next day.
On Friday GE rejected last-ditch revisions suggested by Honeywell. Welch said Honeywell's proposal "makes no sense" for his company's shareholders.
Honeywell had offered to accept a lower purchase price, and in return asked GE to divest more of its holdings to satisfy European antitrust regulators.
GE fell 69 cents to $49.51 Tuesday on the New York Stock Exchange, while Honeywell rose 99 cents to $35.10.
Copyright 2018 The Associated Press. All rights reserved. This material may not be published, broadcast, rewritten or redistributed. We strive to uphold our values for every story published.