Wimbledon — There was no use making sense of Jennifer Capriati's theatrical, three-act triumph, plus epilogue, on and off Centre Court on Tuesday.
Amid her 6-7 (4-7), 7-5, 6-3 quarterfinal victory over a deteriorating Serena Williams, there were so many puzzling actions and charges as to render the result almost secondary.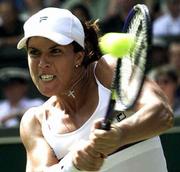 Both American stars requested and were granted lengthy medical breaks. Both received on-court, side-by-side consultations from a trainer. Williams demanded a banana to settle her virus-ridden stomach, and guzzled Pepto Bismol. Capriati was massaged, to ease the pain in her strained hip.
Capriati looked often to her father, Stefano, in the player's box for illicit coaching tips, while Richard Williams huffed out of the building after the second set.
Both players left the court, then returned. And when all was grunted and done, Williams said she had been very ill, while Capriati said she didn't really believe that.
"I thought she said she was an impostor in France and this was the real her coming out," Capriati snapped. "I think I know the truth inside and I think most people do. I could say I was dealing with my own thing out there, with my leg. It's pretty much the same things happen every time I play her."
Back and forth went this crazy-quilt match, with Capriati the steadier of the two, in both nerves and strokes.
Serena, cradling her aching abdomen, appeared brilliant at times, and totally, desperately hopeless at others. She was within two points of winning the match on Capriati's serve, at 3-5 and love-30 in the ninth game of the second set. Then, soon, she was swatting at a mis-hit from Capriati that would have landed three feet long, if it had been allowed to come to earth.
Finally, after rattling off eight straight games from the second through the third sets, Capriati advanced to a semifinal tomorrow against Justine Henin of Belgium while Williams was hurriedly waving goodbye and heading for relief.
"For four days now, I've just been struggling," Williams said, later pulling out of the doubles competition with her sister. "That's when I got the sickness. I haven't been able to eat since. I haven't been right since. I've just been on emotion. I just have no energy.
"Right now I have the chills, I have a horrible headache," Serena said. "I'm not alive right now."
Williams said she'd dropped four pounds, and had approached the WTA about possibly forfeiting her Saturday match against Maggie Maleeva. WTA officials, including Kathleen Stroia, director of sports sciences and medicine, confirmed that Serena had told them she was feeling ill, but said the player had never threatened to default.
The tour trainer, Michelle Gebrian, said Williams was suffering from gastroenteritis, a condition that might be exacerbated by dehydration and stress.
Capriati, despite her own rocky background, showed little sympathy for a 19-year-old trying to find her way on the tour. She insisted Williams was guilty of showmanship. She rolled her eyes when Williams ran for the bathroom after the fourth game of the third set, believing it was a strategy, not an emergency.
"I think it's just the way she plays because it happens every match," Capriati said.
The fourth-seeded Capriati had earned her fair share of praise. She pulled her game together at the most critical time in that second set. But it was the fifth-seeded Williams deciding this match, for good and bad, with 28 winners and 44 unforced errors, with power shots spraying in every direction.
This was not the first time Williams had lost a match with a queasy stomach. She fell to Martina Hingis in a three-set quarterfinal at the Australian Open in January, with similar symptoms.
"It seems like Serena likes to do that against Jennifer," said Lindsay Davenport, who grew impatient waiting to step on the same court Tuesday. "I saw them play in Miami. She was limping around. I saw her play at the French. Something was wrong there. And again today.
"I don't know if it's the losing or she has a mental thing with Jennifer," Davenport said. "A lot of times when she's down, something happens with the trainer going on the court."
Elsewhere Tuesday at the All-England Club, Venus Williams whipped Nathalie Tauziat of France, 7-5, 6-1, advancing to a semifinal on Thursday against Davenport, an easy 6-1, 6-2, winner over Kim Clijsters of Belgium.
A final between the Williams sisters is now an impossibility, which is probably for the better. There would be no winning for them, or for their father. Suspicions of a fix would abound. Charges of half-hearted play would ring through the locker rooms.
Venus said such things didn't bother her, that she couldn't let others judge her or her family. She cited the lessons from Arthur Miller's "Death of a Salesman," that people can't idealize popularity as a goal.
"If I can't do it for myself, I'll do it for her," Venus said of Serena.
Then she headed out to find her sister, the one with the bad tummy ache.
Copyright 2018 The Lawrence Journal-World. All rights reserved. This material may not be published, broadcast, rewritten or redistributed. We strive to uphold our values for every story published.