Wilton, Conn. — The most recent book from award-winning author and chef Rozanne Gold is "Healthy 1-2-3."
It's a handsome book, full of recipes that taste great and each use only three ingredients (not including water, salt and pepper). An added benefit: The book's selections are designed to fit easily into a healthful diet.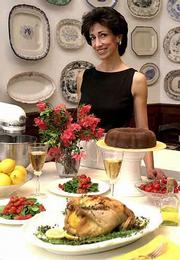 "The point of the book was to be about pleasure, not deprivation," Gold said.
While some people associate healthy cooking with deprivation, she said, "it can actually be quite nice and associated with voluptuousness."
This book follows Gold's other popular books based on her signature use of three main ingredients: "Recipes 1-2-3," "Recipes 1-2-3 Menu Cookbook" and "Entertaining 1-2-3." Gold advocates the use of quality ingredients and applies her professional chef's training to get the maximum flavor from each recipe.
"There's a lot of important information in the book that will help people cook better," she said.
Quality ingredients are critical to the success of the recipe, Gold said. When you limit the number of ingredients, it's important that they all be great.
"Pay attention to the directions and be precise," she said.
For the salad recipe that follows, Gold makes an easy garlic olive oil in which she cooks halved cherry tomatoes. The flavorful juicy tomato mixture is spooned over arugula for a delightful combination of flavors and textures.
Garlic Olive Oil


1 cup olive oil
8 large cloves garlic
Put oil in a small saucepan. Peel garlic and add to oil. Cook over medium heat until small bubbles form at the surface, and continue cooking for five minutes.
Remove from heat and let sit for two hours. Strain through a sieve into a clean jar. Cover and refrigerate. Keeps for two weeks.
Makes 1 cup.
Arugula And Warm Cherry Tomato Salad


2 large bunches arugula
1 pint each of small red and small yellow cherry tomatoes (about 24 each)
2 tablespoons plus 2 teaspoons garlic olive oil (recipe above, or use store-bought)
Wash arugula well, removing thick stems. Dry thoroughly. Divide arugula among four large plates.
Wash cherry tomatoes and cut in half through the stem end. Heat garlic olive oil in a large nonstick skillet. Add halved tomatoes and cook over high heat for five minutes, until tomatoes soften and release some of their juices. (Do not overcook; tomatoes should hold their shape.)
Season with sea salt and freshly ground black pepper. Spoon warm tomatoes and pan juices evenly over arugula. Serve immediately.
Makes four servings.
Nutrition information per serving: 133 cal., 9 g fat.
Penne With Zucchini And Zucchini-Garlic Sauce


4 medium zucchini, about 1 1/2 pounds
4 tablespoons garlic olive oil (recipe above, or use store-bought)
8 ounces penne pasta
For sauce, wash zucchini and cut 1 1/2 zucchini into thick rounds. Cut rounds in half and place in a small saucepan. Add enough salted water to just cover. Bring to a boil. Lower heat and cover pan. Cook for 15 minutes. Using a slotted spoon, transfer zucchini to a blender. Add 1/2 cup cooking water and 1 teaspoon garlic olive oil. Process until smooth. Add kosher salt and freshly ground black pepper to taste. Set aside, keeping warm.
Trim ends from remaining zucchini and discard. Cut zucchini into 1/4-inch cubes.
Heat remaining garlic olive oil in a large nonstick skillet, add zucchini cubes and sautver high heat until zucchini softens and turns golden. Add salt and pepper to taste. Keep warm.
Bring a large pot of salted water to a rapid boil. Add pasta and cook for 12 to 14 minutes until pasta is tender.
Drain pasta thoroughly. Divide among four shallow soup bowls. Distribute cooked zucchini and oil evenly over pasta. Top with Zucchini-Garlic Sauce. Add a grinding of pepper. Serve immediately.
Makes four servings.
Nutrition information per serving: 350 cal., 15 g fat.
Copyright 2018 The Associated Press. All rights reserved. This material may not be published, broadcast, rewritten or redistributed. We strive to uphold our values for every story published.