New York — The hits keep coming for Ichiro Suzuki on the field and on the Internet.
Boosted by online support worldwide and paper ballots cast in Japan for the first time, Suzuki became the first rookie to draw the most votes for the All-Star game.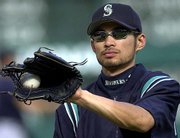 Suzuki was among four Mariners elected by fans Monday to start next week at Safeco Field in Seattle.
"Of course I was surprised. I did not expect or imagine that I would be the starter in the All-Star game," Suzuki said through an interpreter before Seattle played at Texas on Monday night.
Cal Ripken, who will retire after this season, overtook Seattle's David Bell in the final week to earn his 17th start and 19th appearance. The Baltimore third baseman rallied from a 44,000-vote deficit to pass Bell and Anaheim's Troy Glaus and win by 45,000 votes.
The Japanese-born Suzuki received 3,373,035 votes. The 27-year-old right fielder leads the majors in hits and stolen bases.
"Major league baseball fans know baseball talent. I try to play better for them. I appreciate that I got so many votes," he said.
"This is my first year in the major leagues and the All-Star game is in Seattle, so it means a lot to me," he said. "I have been here for only three months, but the people here appreciate my talent."
The seven-time batting champion from the Orix Blue Wave got 1,217,680 online votes the commissioner's office was still counting how many of them came from Japan, and was not expected to know the total for a couple of days.
Suzuki was picked on 682,815 of the 835,000 paper ballots cast in Japan.
Suzuki was the first rookie to be elected since Sandy Alomar Jr. for Cleveland in 1990. Hideo Nomo was a rookie when he was selected by NL manager Felipe Alou as the starting pitcher for the 1995 All-Star game.
The Mariners, with the best record in the majors, also will have first baseman John Olerud, second baseman Bret Boone and designated hitter Edgar Martinez in the starting lineup Tuesday in their home ballpark.
"I think a lot more guys deserve to be in there, like some of our pitchers," Martinez said. "They all deserve to be there, too. So many guys have done such a great job."
The last team to have four elected starters was Cleveland in 1999 Roberto Alomar, Manny Ramirez, Kenny Lofton and Jim Thome. Had Bell beaten out Ripken, the Mariners would have become the first team with five elected starters since Cincinnati in 1977.
"It would have been great to see David in there, but Cal is not a surprise because of what he means to this game," Olerud said.
Ripken finished with 1,108,383 votes, beating out Bell's total of 1,063,772.
There were 716,325 online ballots cast in the final week after stadium voting closed, and a total of 2,231,137 ballots cast online.
Alex Rodriguez, who left the Mariners after last season as a free agent and signed with Texas, drew his fourth start at shortstop.
"I'm going back to a place where I had some wonderful memories, and get to play with some of my best friends in the world," Rodriguez said.
Barry Bonds, leading the majors with 39 home runs, drew an NL-leading 2,140,315 votes. The San Francisco outfielder will be making his eighth start and his 10th All-Star appearance.
"It's letting you know there's a lot of people watching you. It's letting you know a lot of people are punching out your name," Bonds said before the Giants played at Los Angeles.
As for Ichiro getting the most votes, Bonds said, "He's earned the right. He's a hero over there. I thought Nomo was big, he's got nothing on this guy."
Giants second baseman Jeff Kent and shortstop Rich Aurilia also drew starts. They are the first NL middle infielders to be elected from the same team since Ozzie Smith and Tommy Herr of St. Louis in 1985.
"I've always thought we were one of the best double-play combinations in the league, and we never really got that much credit for it. Maybe this will help," Kent said.
Texas catcher Ivan Rodriguez earned his ninth consecutive start and 10th appearance overall. Also starting for the AL are outfielders Juan Gonzalez of Cleveland and Ramirez of Boston.
New York Mets catcher Mike Piazza earned his seventh start and ninth All-Star appearance. His status is uncertain, however, because of a broken toe.
The other NL starters are outfielders Sammy Sosa of the Chicago Cubs and Luis Gonzalez of Arizona, first baseman Todd Helton of Colorado and third baseman Chipper Jones of Atlanta.
The pitchers and reserves and the rest of the 30-man rosters will be announced Wednesday. Seattle pitchers Kazuhiro Sasaki, Freddy Garcia, Aaron Sele and Jamie Moyer all are candidates for selection.
Retiring San Diego star Tony Gwynn, who finished 10th among NL outfielders, is expected to be picked by NL manager Bobby Valentine of the Mets. New York Yankees manager Joe Torre will guide the AL.
Boone, leading the AL with 80 RBIs, was elected for the first time and will make his second All-Star appearance. He broke Roberto Alomar's string of five straight starts at second base for the AL.
"Bret Boone deserves it, he's having a great year," Alomar, hitting a league-leading .355, said before Monday night's game against Cleveland.
Aurilia, Helton and Luis Gonzalez also were elected for the first time.
Ripken and Alex Rodriguez each get $100,000 bonuses for their elections, while Juan Gonzalez and Ramirez get $75,000 apiece.
Aurilia, Boone, Luis Gonzalez, Kent, Martinez, Olerud, Piazza, Ivan Rodriguez and Suzuki each get $50,000, and Helton receives $25,000. Bonds, Jones and Sosa didn't have bonus clauses.
Copyright 2018 The Associated Press. All rights reserved. This material may not be published, broadcast, rewritten or redistributed. We strive to uphold our values for every story published.