Washington — The 85 cases decided by the Supreme Court in the term that concluded last week can be neatly divided into two categories: Bush v. Gore and everything else.
The court, displaying an increasingly evident confidence about its capacity and authority to settle issues it might once have left to other branches of government or the states, produced important rulings on matters ranging from campaign finance regulation to immigrants' rights.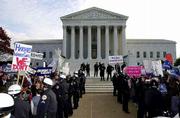 But when the history of the term is written, all of that is certain to be overshadowed by the justices' intervention in the deadlocked 2000 presidential election, culminating in the Dec. 12 decision that, in effect, handed the race to then-Texas Gov. George W. Bush.
Bush v. Gore split the court along ideological lines, with the court's five most conservative Republican appointees Chief Justice William Rehnquist and Justices Sandra Day O'Connor, Antonin Scalia, Anthony Kennedy and Clarence Thomas voting for Bush, and the more liberal justices John Paul Stevens, David Souter, Ruth Bader Ginsburg and Stephen Breyer issuing sharply worded dissents in which they accused the majority of endangering the court's legitimacy by dragging it into a partisan political dispute.
The conservatives appear to have had the last laugh on that issue. Public approval of the Supreme Court, as measured by polls, was not dented by the election case. About 72 percent of the public expressed a favorable view of the court in a March poll conducted by Princeton Survey Research Associates.
Although the liberals may have been defeated in Bush v. Gore, they scored significant victories in other cases: The court expanded immigrants' rights to resist deportation; shored up the Environmental Protection Agency's authority to enforce the Clean Air Act; upheld federal campaign finance regulations; permitted states to draw congressional districts in a way that would encourage the election of minorities and affirmed that federal disability rights laws entitle disabled golfer Casey Martin to ride a golf cart in professional tournaments.
Those victories were usually made possible by the support of O'Connor or Kennedy the two more moderate members of the court's conservative wing, who are the perennial swing votes on the court. They teamed up to join 5-4 conservative majorities 14 times. But on eight other 5-4 cases, a winning vote from either O'Connor or Kennedy went for the liberals.
One of the court's decisions this term even raised the intriguing possibility that next term could bring a victory for opponents of capital punishment so substantial that most anti-death penalty activists once considered it unimaginable: The court agreed to consider whether the Constitution prohibits the execution of mentally retarded criminals, an issue the court had apparently settled, in the affirmative, 12 years ago.
Law enforcement takes hits
For the most part, the court's criminal cases went against law enforcement authorities. The justices, demonstrating skepticism about government methods in the war on drugs, invalidated an Indiana program under which police set up roadblocks and randomly searched drivers' cars for drugs; struck down a South Carolina program under which pregnant mothers were tested for drugs at a public hospital, with positive results forwarded to the police; and said police must get a warrant before using a thermal imaging device to detect heat emanating from a marijuana-growing operation inside a house.
To be sure, the conservatives continued successfully to pursue their effort to enhance states' rights vis-a-vis the federal government. The most clearly conservative result this term was the court's holding that states are immune from discrimination suits for damages in federal court by their disabled employees. It was important for its direct impact on state workers and for the fact that the court brushed aside detailed findings by Congress supporting the need for such a provision in federal law.
The court also eliminated the legal basis for a whole category of anti-discrimination lawsuits that minority groups had used to challenge allegedly biased state actions ranging from certain admissions requirements at universities to the placement of polluting factories near minority neighborhoods.
Another far-reaching conservative result emerged in a Texas case involving a mother who was arrested and briefly jailed by police for not buckling her children's seat belts while driving through her suburban neighborhood. The court, by another 5-4 vote, held that the Constitution permits full custodial arrests for offenses that are normally punishable only by a fine.
Coming clean with water
On the environment, the conservatives also trimmed the scope of protection. They held that the Clean Water Act does not authorize the federal government to regulate self-contained ponds located within a single state and not clearly linked to the country's broader network of streams and lakes. They also granted property owners greater latitude to sue for damages when they claim that state environmental regulation has reduced the value of their property.
But in at least the clean water case, the court declined to adopt a broader proposed view of the case that would have held that Congress lacked constitutional authority to regulate such water generally.
Then, in the Clean Air Act case, the court's liberals and conservatives united to ward off an ambitious business-led attack that sought to overturn the EPA's authority to regulate certain air pollutants on the grounds that the agency had not been specifically authorized to do so by Congress. Scalia wrote the opinion.
However, in one respect that case may have been the exception that proves an increasingly evident rule about the court.
Liberal and conservative justices share a propensity to substitute their judgment for that of Congress, lower courts, federal agencies and state governments.
Even when a conservative majority dismissed Congress's findings about state discrimination against the disabled in deciding that the disability rights law did not overcome states' sovereign immunity to discrimination suits, the effect was as much to aggrandize the court's power vis-a-vis that of Congress as it was to enhance state power against the federal government.
And just as the conservatives trumped Congress in that case, liberals ruled in crucial immigration cases that laws written by Congress that were ambiguous but seemed to preclude federal court intervention on behalf of deportable aliens did not, in fact, do so.
As a result, immigrants may now have access to federal courts to dispute their deportation orders, and the Immigration and Naturalization Service has lost the authority to detain certain aliens indefinitely pending their deportation to countries that resist taking them back. Instead, the immigrants can seek release in court, according to a new set of rules, drawn up by the justices, that tend to favor immigrants more than the earlier rules.
In the Casey Martin case, an opinion written by Stevens dismissed the professional golf tour's claim that it should be able to decide all the rules of its tournaments, asserting instead that federal courts could evaluate when an accommodation for a disabled athlete might or might not constitute a "fundamental" change in the game.
Thus, the common element linking Bush v. Gore to many other cases this term was that it, too, amounted to a declaration by the court that it was better positioned than a lower state court or Congress to decide how or if ballots in Florida should be counted.
"The court assumes that it is more qualified than Congress to resolve disputed electoral votes, more entitled than the president's agencies to fill gaps in federal law and better equipped than the professional golf association to determine the rules of golf," said Walter Dellinger, a Washington attorney who served as solicitor general under President Clinton.
Copyright 2018 The Lawrence Journal-World. All rights reserved. This material may not be published, broadcast, rewritten or redistributed. We strive to uphold our values for every story published.