The heat is on. Then again, what else could we expect with the arrival of summer? Gardeners themselves wilting under hot temperatures and long days know that they must tend to the special summer care of the garden before seeking relief with an iced tea.
No. 1 on the list of July gardening chores is keeping the garden watered. Sizzling summer temperatures rob the soil of reserve moisture. Even after a rain, the soil dries quickly, splitting and leaving jagged crevices.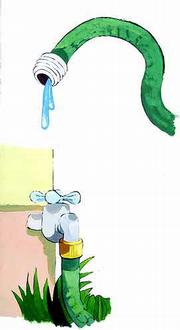 The lawn is the thirstiest of garden plantings. Unless you intend to let it go into dormancy, water it weekly. The water should seep to between 6 inches and 8 inches beneath the soil. Depending on soil type, about an inch of water per week should be sufficient.
Keep in mind that most Kansas lawns can absorb no more than about half an inch of water per hour. To check the amount of water reaching the turf, place small containers at various locations within the range of the sprinkler. Note how long it takes to collect an inch of water.
Water the vegetable garden regularly throughout the growing season. Unless sufficient rain falls, provide at least 1.5 inches of water per week at one time. Allow the water to seep slowly into the soil. A more rapid application may cause the water to run off instead of soaking into the soil.
Watering guidelines vary for vegetable plants. For example, tomato plants are sensitive to moisture fluctuations. Regular watering may prevent blossom end rot. In addition, fruit cracking can occur when an unexpected rain or sprinkling occurs after drought conditions.
Sweet potatoes grow rapidly in July. Their deep roots require less frequent, but more thorough, watering of up to 2 inches. Sweet corn, too, needs up to 1.5 inches of water per week, soaking soil to a depth of 12 to 18 inches. Adequate watering promotes heavy yields.
Ideally, water for the flower garden should be applied directly to the soil rather than sprinkled from above. This method inhibits the growth of fungus and other diseases promoted by wet foliage. It also is less harmful to the cells of the foliage. Imagine the damage caused by cold water splashing on the broad, hot leaves of a hosta.
Plants in containers have more intense watering needs than those planted in the ground, because their roots cannot spread to surrounding soil in search of moisture. The soil in containers must never be allowed to dry out. That means that during the hot, dry summer, container gardens may require watering as often as twice a day.
Water containers thoroughly, until water seeps through the drainage holes. Keep the container plants well fertilized also.
More chores
Once the garden has been watered, other tasks await. Harvest vegetables at their peak and serve them for dinner, within a day or two of picking.
Keep annual beds looking attractive by deadheading, or removing, spent flowers to encourage a continual display of blooms. In perennial beds, tidy things up by clearing away naturally yellowing foliage.
Understandably, mowing grass in hot temperatures is not a favorite gardening chore. Fortunately, the rapid turf growth seen in spring slows somewhat during the summer. Nonetheless, the lawn still needs a manicure. Trim no more than 1.5 inches during a mowing session.
Remember that summer heat stresses cool-season grasses. Mow fescue grass to a height of 3 inches to 3.5 inches, which will insulate the ground a bit from the heat. However, if the grass becomes too coarse or matted, take it down a little and mow the grass a little shorter.
Warm-season grasses, like zoysia and Bermuda grass, can be mowed much shorter than fescue as low as an inch.
July is the ideal time to test the soil of newly planted lawns for pH, phosphorus and potash. When the results return, make adjustments to the soil in August.
Now that the July garden chores are under control, take a break. Snip off a few sprigs of mint to toss into your iced tea before you wander out of the garden. No doubt, you've worked up quite a thirst.
Copyright 2018 The Lawrence Journal-World. All rights reserved. This material may not be published, broadcast, rewritten or redistributed. We strive to uphold our values for every story published.