Words are imperfect tools for conveying the experience of a live musical performance. If the music was bad, failure to adequately annoy the artist's fans isn't exactly a tragedy. But when the music was as superb as it was Monday night for the SnoCore Icicle Ball at Kansas City's Uptown Theatre, the inability to translate the experience into reportage can be, if not tragic, unfortunate.
The Icicle Ball is half of a pair of tours sponsored by artistdirect.com that are currently leapfrogging the country, the other being SnoCore Rock, which came to the Uptown on Saturday night. It's a pity that the larger, Saturday crowd couldn't have heard the Monday show.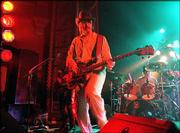 While Colonel Les Claypool's Fearless Flying Frog Brigade was ostensibly performing in support of headliner Galactic, Claypool's band performed a full, 90-minute set that would have been as fine a closer as Galactic's.
Whoever assembled Les Claypool's head did so without the benefit of an instruction manual. Some parts were leftover, some circuits weren't wired quite right and some other, unplanned connections occurred. The guy just isn't quite right, but he's a genius. Think of him as something of a latter day Frank Zappa without the conservatory pretensions, sometimes deadly serious, and sometimes making a mockery of all he surveys.
With his band Primus on indefinite hiatus, Claypool has been performing with an ever-changing and overlapping array of side bands. Frog Brigade features original Primus member Todd Huth, former Galactic sax man Skerik, Rat Dog members Jeff Chimenti on keyboards and Jay Lane on drums, and the amazing, lanky and blond-dreadlocked Eenor on guitar, whom Claypool found by soliciting submissions from around the San Francisco Bay Area.
Come talk about this show in theMagonline.com's
"YOUR VOICE"
forum.
Opening their set with a raucous and muscular take on "Thela Hun Gingeet" from King Crimson's 1981 album "Discipline," Claypool gave notice that this band meant business. Then in a quick, light-hearted turnabout they performed "Col. Claypool's Flying Frog Brigade," sung to the tune of "Sgt. Pepper's Lonely Hearts Club Band," with the rest of the Beatles lyrics left intact, and drummer Jay Lane taking up Ringo's cue to sing "With a Little Help From My Friends."
The band continued with "Girls for Single Men" from Claypool's band Sausage, and "Highball With the Devil," and "Hendershot" from Claypool's band Holy Mackerel. They closed the set with a hard, rocking treatment of Pink Floyd's "Shine on You Crazy Diamond," and Primus' "Harold of the Rocks."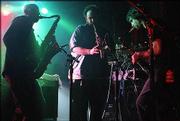 Headliner Galactic hails from New Orleans, where a funk band either knows how to hit it or quit it. Sinuous, tight, playful and intensely gifted as players, the members of Galactic built, stretched and transformed one groove after another. Galactic sounds sometimes like they're playing a beefed-up soundtrack for a '70s porn film, and at others like a retro discotheque band, due in no small part to the fearless use of a vintage Moog synthesizer by keyboard player Richard Vogel.
Vogel's band mates include Robert Mercurio on bass, and stellar drummer Stanton Moore, who together provide the backbone and the foundation for all this funk. Sax player Ben Ellman is a brilliant soloist and often provided the sonic focal point. Guitarist Jeff Raines, an able soloist also, ought to step out front more. On the other hand, rhythm guitar is so essential to funk that its understandable that he'd lose himself in the quest for the deep groove.
Primarily an instrumental ensemble, the players were joined for several songs by singer Theryl "The Houseman" deClouet. A talented soul singer, deClouet rose above some minor vocal discomfort and sang well. DeClouet is a very good soul singer, but he's not a great one. And frankly, this great band soared higher without him onstage.
The zenith of Galactic's performance came when they were joined onstage by former member Skerik, now with Claypool's band, and another guest on second and third saxes for an immense jam during "Charlie Dozen," and then by Frog Brigade's Eenor for more jamming.
When so many rock concerts devolve into playground dog piles, it's a joyous pleasure to watch and listen to brilliant musicians stretch out and entertain themselves as well as their audience.
It's also a pleasure to see the scope of the "jam band" phenomenon broadening to encompass much more that post-Phish hippie noodlers. With the funk of Galactic, and the warped rock of Les Claypool's various endeavors as examples, music lovers that want their minds blown and their hindquarters shaken have plenty to celebrate.
Copyright 2018 The Lawrence Journal-World. All rights reserved. This material may not be published, broadcast, rewritten or redistributed. We strive to uphold our values for every story published.