Boston — P.J. Axelsson broke out of his scoring slump on cue.
One day after Boston coach Mike Keenan asked for more offense from his defensive-minded forward, Axelsson scored two goals and added an assist to lead the Boston Bruins to their fourth straight victory, a 5-1 win over St. Louis on Tuesday night.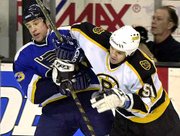 Bruins goaltender Byron Dafoe stopped 27 shots. Sergei Samsonov, Brian Rolston and Bill Guerin also scored for Boston, which has won four in a row for the second time this month.
"It was nice to finally get results," said Axelsson, who had scored just once in the last 42 games.
Jamal Mayers scored for St. Louis, which lost to Boston for the first time in eight games (5-1-2) and fell to 13-8-2 on the road.
The Bruins wasted little time getting on the board against the league's top goaltender, Brent Johnson. Samsonov beat Johnson on a shot from the left side just 6:52 into the game. Rolston's blistering slap shot from just inside the blue line found its way into the corner of the net with 2:26 remaining in the first period for a 2-0 lead.
Oilers 5, Flames 3
Calgary, Alberta Anson Carter had two goals and an assist as Edmonton scored three times in less than two minutes in the third period to rally past Calgary.
Lightning 4, Panthers 3
Tampa, Fla. Todd Warriner snapped a 25-game goal-scoring drought with a pair of third-period goals as Tampa Bay stopped a 10-game losing streak. Warriner twice gave the Lightning two-goal leads in the third period.
Canucks 3, Wild 2, OT
Vancouver, British Columbia Mattias Ohlund scored 1:43 into overtime to lead Vancouver over Minnesota.
Avalanche 3, Sharks 1
San Jose, Calif. Patrick Roy stopped 25 shots, and Chris Drury scored the go-ahead goal as Colorado extended its unbeaten streak to 10 games. In a showdown between Western Conference powers, the Avalanche won their seventh straight game.
Kings 8, Stars 0
Los Angeles Luc Robitaille scored twice as Los Angeles snapped out of its offensive malaise with a rout of Dallas. Jamie Storr's 10th career shutout matched the most lopsided shutout victory in Kings history.
Devils 3, Red Wings 1
East Rutherford, N.J. Patrik Elias had a goal and assist, and Martin Brodeur stopped 28 shots as New Jersey snapped a two-game losing streak. Petr Sykora and Bobby Holik also scored for the Devils, who also got two assists from Jason Arnott.
Capitals 1, Senators 1
Washington Daniel Alfredsson scored a power-play goal with 18:35 left in regulation and Ottawa goalie Patrick Lalime blanked Washington during the final 55 minutes.
Penguins 6, Thrashers 3
Atlanta Mario Lemieux scored a goal, assisted on two others and drew a record crowd of 19,008 in Atlanta as Pittsburgh defeated the Thrashers.
Copyright 2018 The Associated Press. All rights reserved. This material may not be published, broadcast, rewritten or redistributed. We strive to uphold our values for every story published.