If tested, most teachers in the Lawrence public school district wouldn't be able to define inclusion.
Wayne Kruse, a sixth-grade teacher at Quail Run School and president of the union representing nearly 900 educators in the district, said teachers generally embrace the idea of integrating special-education students in regular classrooms. But they don't have proper guidance from administrators how to do it.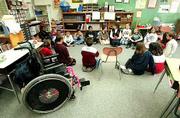 "We want a clear policy on inclusion that says, 'In our district, this is how we operate,'" he said.
Lawrence school board member Scott Morgan said he, too, was at a loss to articulate the district's policy on inclusion.
"I'm not aware of what our plan is to make inclusion work in this district. If I'm not aware, I don't know how many others are," Morgan said.
In fact, the policy manual under development by the school board for more than a year doesn't set ground rules for inclusion.
That's not stopped thousands of children with disabilities from taking a seat in classrooms throughout the district since the federal Individuals with Disabilities Act, known as IDEA, was passed 25 years ago.
The law mandates that America's public schools integrate children with disabilities into general education classrooms, at least part of each day, regardless of the severity of the disability.
In the mid 1990s, the Lawrence school district responded to the law by adopting a philosophy of inclusion. It's based on the notion that all children deserve the opportunity to learn and grow within the school community that represents the world in which they live.
The old standard might have prevented Margret Curry from learning to spell, count and draw alongside her peers. The Lawrence sixth-grader's deafness would have been an impenetrable barrier.
"That is hard to understand," Margret said, answering questions signed by an interpreter at Sunflower School. "I like this school."
Her presence in sixth-grade teacher Linda Browning's class doesn't go unnoticed. Margret's deafness has prompted more than a dozen classmates to learn some basic sign language.
"It's good," said Margret, 11. "I'm glad they can communicate with me."
Law of the land
Before President Ford signed Public Law 94-142 on Nov. 29, 1975, public schools in this country educated only one in five children with disabilities.
States laws excluded from public schools about 1 million students, including children who were deaf, blind, emotionally disturbed or mentally retarded.
Today, the U.S. Department of Education says 6 million children and youths, ages 3 to 21, even those with staggering physical and mental challenges, are required to receive "free, appropriate" special-education services in U.S. public schools. Three-fourths of these students access these services in neighborhood schools alongside nondisabled peers.
The nation's transition from a system that paid little or no attention to the disabled, to a system that grudgingly accommodated these children, to a system that provides specific programs and services to children with disabilities and their families hasn't been easy.
Debate rages on
While some see IDEA as a landmark civil rights law that empowered more people to contribute meaningfully to society, others see it as a curse that drains school districts of financial and educational resources necessary to properly educate the entire student body.
State Rep. Ralph Tanner, R-Baldwin, who chairs the House Education Committee, said some students were so severely disabled they didn't belong in regular classrooms.
"I find fault with those who say all kids can learn. I don't know why the education community can't accept that," he said.
Parents with children in the district have quietly expressed concern that even students with less-severe disabilities are monopolizing class time, said Jack Davidson, a Lawrence school board member.
"They complain about their children not getting enough of the teacher's attention," he said.
Rud Turnbull, KU professor of special education and one of the nation's leading advocates of inclusion, said research shows disabled and nondisabled students benefit from interaction at school. Studies show nondisabled children's learning isn't slowed in inclusive classroom systems, he said.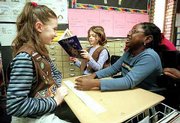 "Research teaches that all students can learn. The only exception to this rule is in the very rare case of a child in a comatose state," Turnbull said. "Further, research teaches that children with disabilities and children without disabilities can learn when educated by well-trained general and special educators."
He said educators addressing inclusion must focus on four student outcomes: equal educational opportunity, economic self-sufficiency, independent living and full participation.
"To secure these outcomes, schools must make it possible for students with disabilities to have effective access to the general academic curriculum, to the extracurricular activities and to other school activities. The state of knowledge exists. The will, the capacity and the methods are usually the problem."
Former U.S. Secretary of Education Richard Riley said the benefits of IDEA can be observed in three areas:
l High school graduation rates among youths with disabilities increased 14 percent from 1984 to 1997.
l The percentage of college freshmen reporting disabilities has more than tripled since 1978.
l Post-school employment rates for youths served under IDEA are twice those of older adults with similar disabilities who did not have the benefit of the law.
Cadillacs vs. Chevys
Getting a handle on complex IDEA statutes and dozens of court cases interpreting disability law on the subject remains a challenge.
Alexa Pochowski, director of special education at the Kansas Department of Education, said lack of clear definitions complicates negotiations among parents and school officials trying to decide a course of study for a child with disabilities.
Parents read between the lines of IDEA and feel justified in seeking from a school district the Cadillac of educational programs for their disabled son or daughter.
Yet, school officials examining the same law might opt for a Chevy program.
"I don't want to discount the fact that these students' needs are complex and severe," Pochowski said. "We have to provide the Chevy, not the Cadillac. We would like to provide the Cadillac."
IDEA does require states and local school districts provide a "free, appropriate public education" to the nation's children and youths with disabilities "in the least restrictive environment." That educational program should be "reasonably calculated" to enable a child to receive "educational benefit."
John Neet, whose 13-year-old autistic son, Tom, has attended Lawrence public schools since 1993, said grasping these sometimes ambiguous concepts in federal law has been a struggle. That frustration is shared by thousands of other parents with disabled children in public schools, he said.
"In the basic legislation ... that word 'appropriate' is very, very hard to define," Neet said.
Under IDEA, the federal government mandates districts work to identify students with disabilities, educate those children and evaluate success of these efforts.
That process occurs differently from district to district as well as from school to school in a single district.
"There are no quick fixes, no recipes in a book that we teach from," said Lois Orth-Lopes, a special-education teacher at Cordley School in Lawrence.
Individualized plans
The law does stipulate a multidisciplinary team, including parents of the child, craft a specific educational plan for each student. The goal is an individualized educational plan, or IEP, which has been called the centerpiece of special-education law. Annually, there are about 1,500 students in the Lawrence district with an IEP.
IEPs should accurately describe a student's problem and how those issues are going to be dealt with at school. The goal of a student with disabilities may be different than his or her classmates.
The child may need to receive a variety of services, such as transportation, occupational and physical therapy, audiology, school health services, speech-language pathology and psychological services. These too, are to be provided by the school to eligible children at no cost to their families.
Special classes, separate schooling or other removal of children with disabilities from the regular educational environment should occur only when the severity of the disability is such that education in regular class cannot achieve satisfactory results, under federal law.
Parents are required to be regularly informed of their child's educational progress. Each student's IEP is to be reviewed at least once a year to determine if annual goals are being met. If "expected progress" is not achieved, the IEP should be revised, federal regulations mandate.
The content of IEPs is a significant concern in Lawrence schools because the percentage of students with disability IEPs is higher than the state's average. In the past year, 14.9 percent of Lawrence's 10,300 students had a disability IEP. The state average is 12.6 percent.
Joe Nyre, the district's assistant director of special services, said the success of special-education programs at KU and in the school district had convinced families to move to Lawrence.
"We attract students," he said. "We have some excellent programs that parents are willing to move anywhere in the country to access."
But reputation alone can't measure whether a district is in compliance with federal disability law.
How do Lawrence public school patrons gain assurance the district is meeting the letter of the law?
Independent verification is wanting, given that the state hasn't conducted a compliance audit of the district's special-education programs since 1995. And the federal government hasn't assessed the state's compliance with IDEA in half a dozen years.
"We are in compliance," said Doug Eicher, executive director of special services for Lawrence schools. "The school board signs a form at the beginning of each year saying that we will follow the rules."
But a study released last year by the U.S. National Council on Disability, which advises the president and Congress on issues affecting 54 million Americans with disabilities, offered a sobering analysis of IDEA compliance.
In January, the council found every state and the District of Columbia out of compliance with IDEA to some degree.
"We have good special-education programs in Lawrence schools," Eicher said. "We could be better, but we know it's much better than many districts."
"We think we're somewhere between (the legal requirement) and the ultimate," Nyre said. "There's not enough funding to be the ultimate."
Copyright 2018 The Lawrence Journal-World. All rights reserved. This material may not be published, broadcast, rewritten or redistributed. We strive to uphold our values for every story published.