In an effort to improve the look of their neighborhoods and keep their taxes at current levels, two groups of Lawrence residents will meet this week to discuss the Kansas Neighborhood Revitalization Act.
Members of the Oread and West Lawrence Neighborhood associations will meet at 7 p.m. Wednesday at the Lawrence Public Library, 707 Vt., to discuss the state law, which is designed to provide incentives to homeowners to improve their properties.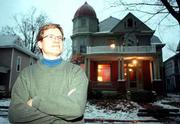 Under the 1994 act, property taxes on homes, which inevitably would increase after repairs and improvements, can be credited back to homeowners, said Lawrence planning department official Dennis Enslinger.
"It's a tool used to stimulate revitalization," Enslinger said. "It allows communities a great deal of flexibility in how their program can be structured."
Technically, homeowners would pay additional property tax under the act but would receive a credit at the end of the year, effectively keeping the property value at the original level.
The exemption is designed to give homeowners an incentive while keeping the tax base sufficiently high, said Enslinger, who will provide information about the law at Wednesday's meeting.
Janet Gerstner, secretary of the Oread Neighborhood Assn., said she hoped to use the statute to improve the look of the neighborhood and to attract more residents. The Oread Neighborhood is contained within Ninth and 17th streets from Massachusetts to Michigan streets.
"I'd like to see parts of Oread do this," she said. "I'd like to see all the older neighborhoods get involved, because it can lead to all sorts of positives."
Only a few cities in Kansas have made use of the act, Enslinger said. For example, Hutchinson has designated about 45 percent of the city as a Neighborhood Revitalization zone, he said, and allowed it to include residential and commercial areas. Leavenworth, on the other hand, has used the act to stimulate mostly commercial areas.
The tax credit also is flexible and can work as a sliding scale, lasting anywhere from five to 10 years.
Ann Goans, secretary of the Old West Lawrence neighborhood group, said she predicted many residents would like such a program. Her neighborhood extends from Sixth to Ninth streets between Kentucky and Michigan streets.
"It's kind of a pat on the back for fixing up a historic property," she said.
Copyright 2018 The Lawrence Journal-World. All rights reserved. This material may not be published, broadcast, rewritten or redistributed. We strive to uphold our values for every story published.