Bhuj, India — Exhausted searchers using everything from sophisticated rock-cutting tools to their bare hands clawed through rubble Sunday, hoping to find survivors lingering among the thousands believed buried by western India's massive earthquake.
More than 6,000 bodies had been found since Friday's quake, and the death toll was expected to go much higher. Some authorities estimated it would reach 10,000; others said 16,000 or more. A leading rescue official said there could be up to 30,000 dead in one town alone.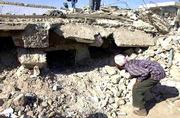 As India's prime minister appealed for help, frantic rescuers and sniffer dogs uncovered a few signs of life Sunday amid the destruction in Gujarat, the western Indian state that took the brunt of the blow.
In Anjar, 30 miles southeast of the hardest-hit town, Bhuj, a 3-year-old girl was unearthed from the rubble alive.
"She was chanting some Arabic verses," said a soldier who participated in the toddler's rescue. "She was totally unscathed," he said, declining to give his name.
Authorities will know by today whether any more people are alive under the rubble, Gujarat State Home Minister Haren Pandya said. The emphasis will then switch to clearing the rubble and removing the dead bodies.
Friday's magnitude-7.9 quake India's strongest in more than 50 years struck on Republic Day, a national holiday here. It shook the earth for more than 1,200 miles and was felt in Nepal, Bangladesh and Pakistan, where 10 people were crushed in their houses.
More than half the houses in Bhuj, a city of 150,000 people, were reduced to rubble and the rest were damaged. In the congested old part of the city, dogs, pigs and cows foraged for food in streets made narrower by mounds of rubble.
In a newly developed portion of Bhuj, lime and chlorine disinfectants mixed with the smell of dead bodies. People moved possessions from their homes and set up makeshift camps in two open areas using bed sheets as tents.
"This is death and destruction," said a bearded old Muslim man sitting on a string cot.
He refused to talk about his family and wouldn't give his name. "I am just an unfortunate Indian. That is enough."
By Sunday, foreign aid was pouring in: Cranes, generators, cutting tools, sniffer dogs, seismic monitors and poles with long cameras attached had begun to arrive along with experienced teams of rescuers from places such as Switzerland, the United Kingdom and Turkey.
The United States will send $5 million in emergency supplies, officials with the U.S. Agency for International Development said Sunday, and could send more as the situation worsens.
A seven-person disaster response team will be in India today. USAID said the United States would send supplies that include plastic sheeting, blankets, water containers, purification and distribution kits and generators.
The agency, through the organization CARE, also began distributing 100 metric tons of food on Saturday. The emergency food will meet half the daily requirements for 4,000 families for 15-20 days, USAID said.
Copyright 2018 The Associated Press. All rights reserved. This material may not be published, broadcast, rewritten or redistributed. We strive to uphold our values for every story published.